Administration & Leadership
Staff Meetings Get a Needed Makeover During the Pandemic
Educators across the country share their insights on how the pandemic has forced them to change staff meetings—for the better.
Once a routine practice, the notorious "sit and get" staff meeting has become the latest trend in education to have a (much-needed) pandemic makeover.
"Send emails... don't waste my time in a meeting... want feedback—send a Google form," tweeted @JayandRagsy, a high school librarian from San Francisco, referencing a long-standing sentiment among educators that many staff meetings are pointless and eat up valuable time that could be allocated for planning or grading.
The pandemic may be creating an opportunity to make major improvements to staff meetings, however, as schools have been pushed to evaluate how they run and structure them in virtual settings—prompting changes that may remain when educators return to school full-time. Teachers and administrators we spoke to shared that distance learning has inspired them to adopt practices that make meetings more collaborative, engaging, and targeted.
"The pandemic has disrupted the automaticity of staff meetings," said Michael Crawford, the cofounder of EdSpace, a social network for educators. "This has forced educators to examine what they've always done, ask questions about the efficacy of those practices, and adapt."
After talking to educators from across the country about these new meetings, we compiled some of the most interesting, innovative, and durable adjustments.
On-Demand Meetings
Because everyone's time is limited during the pandemic, many districts are treating meetings with more flexibility than ever before. Educators are now recording a video or sending an email to relay pertinent information when they might have called a meeting before—giving staff members time to continue to prep their lessons or even make their dinner.
"Nothing has been lost by reading information on my own schedule instead of attending a meeting, unless I need to be part of a decision-making process," said third-grade teacher Margaret Shafer in Morton, Illinois.
In Friendswood, Texas, the Galloway School asked for staff input about the new, asynchronous meeting format, after testing prerecorded staff meetings in their third week of school this fall. Fabiola Vacatoledo, an elementary and middle school teacher, said she greatly appreciated being able to cook dinner while watching the meetings and would prefer to continue the asynchronous format with only a handful of in-person meetings scheduled throughout the year.
The asynchronous approach has also been applied to training and professional development (PD). At Minnieville Elementary School in Woodbridge, Virginia, educators used Nearpod—a tool where one can include interactive elements like polls into presentations—to do beginning-of-the-year PD sessions on their own time this year. To show proof of completion, staff completed check-ins embedded into the slides before moving on to the next one.
Increasing Teacher Voice
When it comes to teaching and learning during the pandemic, educators have learned that no one is an expert. In many schools, the uncertainty has opened a door for more teacher input, and staff meetings are beginning to leverage teachers' expertise and problem-solving capabilities.
Robbinsville Public Schools district in New Jersey, for example, now starts out some department- and grade-level meetings—and even some professional development—with a Mentimeter or Zoom poll to dictate the agenda, which can lead to timely, pertinent discussions as a whole or in small group breakout rooms.
Meanwhile, Minnieville Elementary has done away with their old weekly or monthly staff meetings entirely. Instead, administrators now host open Zoom hours several times a week during which staff can bring their issues to the table to work through together. "The staff meeting is no longer the 'admin hour' where the administrative team talks at staff without two-way communication," shared principal Deborah Ellis and assistant principal Melanie Krotz in a joint email.
Best practices borrowed from their interactions with remote students have also carried over to staff. During the annual summer PD training at Wasatch Academy in Mount Pleasant, Utah, staff gathered in a spacious field house, and high school math teacher Emma Chiappetta projected a shared Google doc onto a large screen. Using their own laptops, faculty were given 10 minutes to respond to questions in the document with their names and then comment on others' reflections. Afterward, Chiappetta skimmed through the document and pointed out trends and important insights.
The new approach—which can also work remotely—not only kept staff socially distanced but gave voice to more staff members than the old sessions, said Chiappetta. One colleague emailed her, saying, "I know I am not usually talkative, but it made me feel like my voice was heard."
Emphasizing Human Connections Over Technical Logistics
Working through a pandemic, let alone living through one, is hard, educators told us, so many districts have been emphasizing connection and social-and-emotional support over logistics to help each other get through it.
Since remote learning started, Siler City Elementary School in North Carolina has incorporated weekly themes like fail-forward, self-care, and teamwork into meetings to reinforce needs that the administrators have seen arise among the staff. Guided by the themes, staff participate in related activities like breakout discussions and games, said Kristen Breedlove, the assistant principal of Siler City Elementary.
Reflecting their deep commitment to social and emotional learning, staff at Fall-Hamilton Elementary in Nashville, Tennessee, now focus their staff virtual meetings mostly on community-building activities—like giving shout-outs to colleagues—instead of disseminating information like they used to pre-pandemic.
To kick off meetings at North East Independent School District (NEISD) in Texas, the SEL behavior team engages colleagues with an SEL prompt to initiate discussions on their thoughts and feelings—and ways to cope with current stressors—so that they feel ready to get down to business. They've found that apps like Mentimeter—which, in addition to polling, collects feedback with real-time word clouds and quizzes—and Pear Deck—which allows educators to embed assessments into their Google slides—have been helpful tools to pique conversations.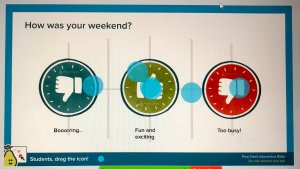 Courtesy of Rebekah Cummings-Kmieiciak
Rebekah Cummings-Kmieciak, an SEL behavior coach at NEISD, repurposes student tools like Pear Deck to check in with staff at the beginning of a meeting.
Changes to staff meetings can simply involve building in time to talk. At meetings at Kenilworth Junior High School in Petaluma, California, for example, staff are now given time just to vent, so that they still feel supported and connected while remote.
"We're all frustrated and struggling, and since we don't get to congregate in a staff room, we really need that time to feel like we're all in this together," said eighth-grade English teacher Laura Bradley.