Early Childhood Education
Simple Ways to Create a Positive Pre-K Environment
Classroom management centered on kindness can help new teachers set their young students up for success in school.
Introducing pre-K students to the general school culture can be challenging for new teachers. There are lesson plans to manage and classrooms to organize, as well as quickly learning what your students are like and what their needs are. Of course, you can read about your new students in their portfolios, but there's nothing like getting to know them in real life. In addition to breaking the ice, it's important to find ways to integrate these first-time students into the world of grade school to set them up for success as they move on through the school system.
To help my pre-K students understand that school is a place where learning can be fun, that kindness matters, and that I care about them, I use the following strategies to help them get comfortable with the school environment.
Give Recognition and Encouragement
So, what do we do with these first-time students? Start simple and build up their confidence. Research shows that confident students are more receptive to learning. Pre-K students thrive on consistent recognition and compliments. If they hear encouragement throughout the day, their listening ears will always work.
I usually start the day during circle time by complimenting my students on highlights from the previous day. Early morning recognition sets a positive tone for the rest of the day and helps students look forward to the activities to come. Students who feel that they did not have a highlight from the previous day will gradually begin to engage more, as they will feel encouraged to do so after hearing many compliments given to their peers.
I celebrate even the smallest things, like being prepared for an assignment or a student raising their hand to speak. When they understand the finer details of class procedures and the benefits of following rules, students begin to feel good about themselves and develop a sense of belonging.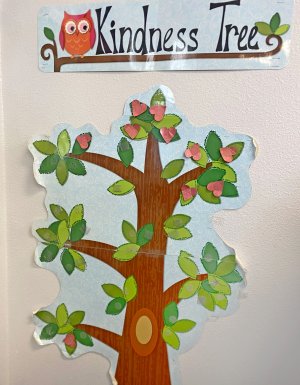 Courtesy of Raven Lyons
A visual encouragement for young students to show kindness
I also like to recognize acts of kindness by using a Kindness Tree, a tree that has been drawn, colored, and laminated, and has Velcro stickers on each branch. I cut out little red hearts and placed the other half of the Velcro on the back of each heart so that students can place them on the tree. Anytime I see an act of kindness, I recognize it and direct that student to go add a heart to the tree. The next morning during circle time, we count the number of hearts we got the day before and challenge ourselves to earn even more. Although there might be days where we only have one heart to count, my students absolutely love this activity. It helps them interact better and become friendlier with each other, and creates a positive learning community.
Smooth Out the Transitions
We all know how difficult transitioning can be for 4- and 5-year-old students. Constantly directing and redirecting during transition time can be a job in itself. Try a different route, and bring some new energy to the transition.
Give your students something or someone to compete with during this time. This type of redirection takes their mind off the routine, turns it into a game, and makes them focus more on completing the task. For instance, sometimes I turn on a cleanup song to help set the tone. Then I say, "OK, let's see whose area will be completely clean before the song ends." We even chant, "Beat the song," while they're cleaning. This creates a fun, stress-free environment and helps students look forward to the next activity. This way, I give less direction and my students don't push back.
Get Personal and Build Trust
Share a glimpse of your life outside of school with your students to help build trust with them. Once they're more familiar with who you are as a person, they will feel more comfortable with you. Use downtime—snack time, before and after school—to ask questions and play quick games with them to break the ice. Talk to them about their weekend plans, favorite games, and cartoon characters, and tell them your own. You'd be surprised by how much they are willing to share. My students have told me so much about their hobbies that I sometimes randomly ask questions about them. 
One of my students loves to play Super Mario video games. He always shares when he passes a certain number of levels and he gets to switch to a different board. Remembering everything he has told me in recent conversations, sometimes I'll ask, "Hey, is it switch day tomorrow?" Kids respond really well when you make positive observations or ask questions about the things that are unique to them. Showing interest in your students encourages them to be more open to learning from you because they know you care about them.