Administration & Leadership
Principals Can Support Teachers by Leading With Empathy
Administrators can ensure that teachers have access to resources to help them overcome personal difficulties and succeed in their careers.
Not long ago, a principal I know made an offer to a teacher whose wife was traveling internationally for several weeks. Her temporary absence had left this teacher alone to care for four young children, one of whom had significant special needs. He needed to leave school midday to check on the child while the home health aide took a lunch break. The principal not only approved of the teacher's regular midday absence, but also offered additional help at school. "I will find coverage for your study center, and I will personally cover your bus duty for the next few weeks," she told him.
"I can't let you do that," the teacher said. "It never goes over well with colleagues when someone gets out of duties. They think it's unfair. They might judge me for shirking my responsibilities."
The principal acknowledged this truth, but pointed out, "Since they are your friends, they really should understand. And if they are irritated that you're 'getting out of something,' they are just as likely to be irritated if you overextend yourself." The teacher laughed, seeing that either choice might result in collegial irritation. He accepted the principal's offer and spent the extra time he'd been given catching up with his responsibilities.
It's a wonderful thing when a principal develops a reputation among staff as someone who understands life's curveballs and is willing to jump in and relieve pressure when needed.
Expressing Empathy
In the hustle of running an entire school, principals can sometimes forget to call upon empathy when teachers struggle to prioritize their teaching responsibilities. The capacity to truly place oneself in the position of another is tested during these times, but principals who do so will reap the benefits of loyalty and gratitude from teachers.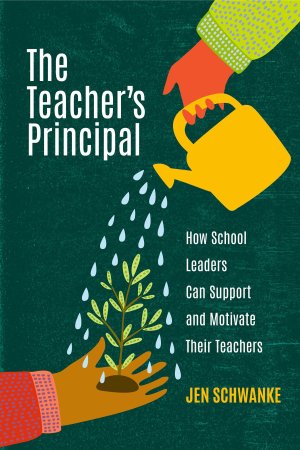 Courtesy of ASCD
Empathy goes beyond thinking "I feel really bad for that teacher." It's deeper and more personal: "If I were in that teacher's position, how would I be feeling? How would I manage my workload? How would I reconcile all the things I need to do to manage my life?" Usually, answering these questions reveals an important truth: that teachers truly are doing the best they can in an impossible situation.
Shifting Job Responsibilities
Principals who know when and how a teacher's priorities have been challenged can proactively consider changes that will help carry those teachers through the difficult time until they get back on track.
I once worked with a teacher who had been raised on a farm several hours from where he now lived and taught. His parents were aging and none of their children were able to take over the farm, so the land was put up for sale. It was an emotionally and physically exhausting time for this teacher. He drove four hours "home" every weekend to help his parents prepare for auction, all the while mourning the loss of his childhood home.
In the two months leading up to the auction, and for several weeks afterward, I was able to adjust this teacher's schedule so he could leave work a couple hours early on Fridays, giving him a head start on his drive, in exchange for taking over an extracurricular supervision duty on Wednesday nights. The change was only temporary, but I was committed to making it work because I had faith that this teacher's priorities would soon shift back to his regular teaching schedule. The flexibility paid off, and then some—to this day, the teacher expresses gratitude for the support that helped him get through a difficult time.
Modeling Solution-Based Problem Solving
I learned a great strategy not long ago that I find hugely helpful: whenever a problem comes across my desk, I encourage those involved to come up with at least two possible solutions for it. I try to make it a challenge: "Let's see if we can do a 'two-for-one,'" I'll say. My request usually triggers more than just two solutions, providing multiple options for us to consider. Some of them are unreasonable or even outlandish, but there are usually some good nuggets to consider, and the process usually triggers even more ideas. The right solution might involve a change in job assignment, an adjustment of duties or schedules, temporary relief from responsibilities, or even—and it's a legitimate option—quitting the job altogether.
I recently spoke with a teacher about possible changes to her home life that could alleviate stress at work. She was stretched thin each morning, always late and frazzled before school began. She said she spent every morning racing frantically back and forth across town to get her kids to two different day-care facilities. One child went to a kindergarten enrichment program, and the other to a toddler preschool program.
"Let's think of two solutions to this one problem," I said. "What can you do differently? Anything goes. Let's list every single option."
"Well, there are some options that I'm not willing to do," she protested.
I smiled at her. "Those sometimes lead to the best final choice," I replied.
We made a list. She could put her children in the same day care, but that would dramatically increase her monthly cost. She could take a leave of absence until her children were older. She could ask her husband to shift his work hours so he could help with transportation. She could hire an in-home sitter.
Each of those ideas had some sort of hitch, but they helped us come up with another idea altogether: posting on Nextdoor to ask if any neighbors would be willing to be paid to transport her children to day care. She posted her request, and somebody answered: a retired nurse who lived a few streets away. After a few weeks of acclimation, during which we temporarily adjusted the teacher's work hours to allow for flexibility and a later arrival, the teacher felt confident that the neighbor was more than capable of providing the emotional support her children needed at the beginning of each day. In the end, considering multiple solutions to our one problem led us neatly to a positive resolution.
Encouraging Support Systems at School
Many of the priority challenges discussed in this chapter originate at home, but work stressors can also have a big impact on teachers' home lives. Work and home are often tightly intertwined for educators. A bad day at school carries over to home, and a bad night at home carries into school. Just as teachers' home and work lives often overlap, so, too, should their support systems—and a school community can be a fabulous support system for teachers.
Colleagues can become close friends and confidants, experiencing life's ups and downs together. They celebrate positive things, like weddings and new babies and graduations, and when there is illness and death, they make casseroles, organize meal trains, and hire housecleaning services. Principals should be proud when their staff members come together to both celebrate good things and lift one another when things aren't going well. They can also be part of these efforts, leading a culture of group support, mutual understanding, compassion, and reciprocity. That's when a school really begins to thrive.
Principals who understand that teachers' priorities will ebb and flow over the course of a career, and who flex their expectations with a teacher's needs, generally receive respect and appreciation from their teachers…. Grace is always the best choice when a teacher is struggling with priorities. A principal's support, guidance, and understanding can make a difference as to whether a teacher will work through the issues and "come back," better than ever, or whether the wayward priorities will lead them too far astray.