Assessment
A Powerful Way to Document Student Learning in the Early Grades
Learning stories are narratives that demonstrate in images and text the learning process of students in preschool through grade 2.
One way for teachers to register and document children's learning is through learning stories that make their everyday school life visible. Influenced by the Reggio Emilia approach, this pedagogical concept holds that every child is a unique and strong human being with rights and potential, who learns through multiple languages and grows in their relationships with others.
A learning story is more than a literal description of facts. It's a narrative in which the child is the protagonist. The teacher uses an investigation of the pedagogical routine to communicate and display the child's construction of knowledge and their rationality through a narrative about and for the child.
To document a learning story, teachers need to listen carefully and observe the child's journey. Paying attention to details, finding poetry in theories, and seeing beauty in movements, gestures, and games is essential, as it allows the learning story to strengthen the teacher-student relationship, since teachers can conceptually, pedagogically, and culturally structure children's daily lives and learning. 
A learning story narrates children's explorations and learning processes, showing how children build knowledge of themselves and the world. It can be a short text or a series of images that evoke hypotheses and theories. While documenting a learning story, teachers can organize their practice to create meaningful learning contexts; analyze interests, questions, and curiosities; and understand the way children relate, live, and learn.
Through these stories, teachers also come to understand how children organize knowledge and experiences and how we can improve teaching and students' learning.
How to Start
1. Exercise sensitive and attentive observation: It's important that teachers create the daily habit of watching and recording children's actions, explorations, and conversations when they play by themselves or with others and interact verbally with peers or/and teachers.
Revisiting these records and understanding what they say about children's daily lives, experiences, and learning is also crucial in documenting a learning story.
2. Choose something to feature: Organize the images or texts around your chosen focus, exercising your observation skills for the narrative. Make sure that the pictures you choose reveal everything the child was trying to show or say with that action or words.
Be aware of how you're taking the photographs. Allow the children's thinking to come alive through the pictures by getting down to their level to take the pictures. Also, be mindful of the notes you're writing, respecting and capturing the essence of children's actions and productions.
3. Take care with the layout: The layout of the narrative can help others to better understand the learning story, and the title and central pictures act as an invitation to read the story. When producing a text—subtitles for images, a description of the children's actions, or a transcription of the children's words—be sure that the chosen words support the complexity and beauty of the way children relate, learn, and act.
4. Display the results: Display and share the stories in a place visible to the entire school community. Revealing a learning story, a record of a narrative and projection of children's experiences, is a celebration and an opportunity for them to represent their learning and their knowledge.
An Example
With most of the learning stories I documented, children were building knowledge while playing or exploring. In some other stories, however, children were talking to each other, reading the world with their lens, and creating their own hypotheses according to their previous knowledge and curiosity.
When I noticed a child was building a scale and using it to compare weight and volume, I took a sequence of pictures and put it together as a learning story. While building the scale, the child was by himself and didn't share this experience and knowledge with others. Through images, I was able to create a strong visual description and design what I wanted to narrate, as you can see in the following image.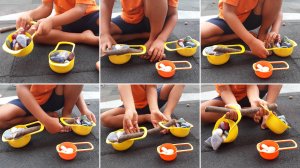 Courtesy of Tatiane Rigonati
One of the author's students building a scale.
Later on, I displayed this short learning story on the classroom wall. In this case, the story not only was a think-out-loud strategy that represented this child's thinking but also showed this thinking and knowledge to others, acting as a tool for extending children's learning.
Since the learning story is part of the teaching practice, I then gathered some different stories together and organized an exhibition in the school, so that other children, teachers, and parents could see some of the children's learning through the children's lenses.
Learning stories also favor children's multiple languages and enrich the possibilities of their representation, making the children's learning and knowledge visible, thus expanding their artistic, cultural, social, and linguistic repertoire.
Learning stories embrace the complexity of the way children relate, learn, and act through the way they represent knowledge and the world. These stories can also enhance their learning during their next step—exploration and discovery.