Assessment
Mail to the Chief: A Book for the Season
Enlightening readers on the status of public education.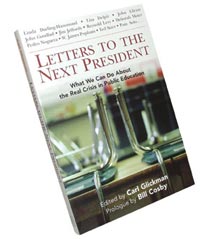 Credit: Teachers College Press
As the presidential election heads into its last frenetic weeks, readers will find this compact volume a timely and appropriate companion. Education activists published the book in an effort to educate our next president on what's working -- and what's broken -- in public schools today. Letters to the Next President is at times funny and other times poignant, but always personal. Students, parents, teachers, and politicos share, through correspondence, their stories, concerns, and hopes for K-12 education in the United States. You'll find missives by such heavy hitters in education as Theodore Sizer and Linda Darling-Hammond, as well as classroom teachers and immigrant students, each with a unique and compelling insight for the man who will next occupy 1600 Pennsylvania Avenue. Here's to hoping this is one letter he opens.
Letters to the Next President:
What We Can Do About the Real Crisis in Public Education
Edited by Carl Glickman | Teachers College Press | $15 | 272 pages
Roberta Furger is a contributing writer for Edutopia.