Professional Learning
How Teachers Can Make the Most of Their Unique Talents
Teachers can be more effective by uncovering and tapping into their individual combination of skills and interests.
As teachers, we enter our classrooms with diverse skill sets, talents, and attributes. During my first year as a teacher, I used the lesson plans that my mentor teacher handed down to me practically unchanged and taught all my lessons in the same manner as she did the previous year. What I came to realize over time was that her lesson plans were designed to align with her teaching style and maximize her unique strengths. Once I figured that out, I began to rewrite the lesson plans and brainstorm about how I could deliver lessons in a way that best reflected my teaching style and brought out my unique strengths and personality.
In his book The Big Leap, Gay Hendricks asserts that your Zone of Genius consists of those unique skills and talents that give you life, enhance your quality of work, and allow you to excel at a level unmatched by most people. According to Hendricks, a person can identify their Zone of Genius by answering the following questions:
What do I most love to do?
What work do I do that doesn't seem like work?
In my work, what produces the highest ratio of abundance and satisfaction to amount of time spent?
What is my unique ability?
Even though the Zone of Genius theory is most applicable to entrepreneurs and individuals in the business world, the tenets of the philosophy are easily transferable to the important work we do as educators.
What Is the Educator Zone of Genius?
Your Educator Zone of Genius consists of the unique skills, natural talents, and qualities that elevate your teaching performance to a level that only a few people can reach. In order to identify your Zone of Genius as an educator, you must answer the following questions:
What do I most love to do as an educator?
What work do I do as an educator that doesn't seem like work?
In my work as an educator, what produces the highest ratio of abundance and satisfaction to amount of time spent?
What is my unique ability as an educator?
In addition to answering those questions, we must identify what our expert zones are. Expert zones are any personal skills, talents, or content areas where you have a high interest and/or deem yourself proficient. Expert zones can also be specific careers, roles, and geographical places about which you possess a wealth of knowledge. As digital marketing guru Josh Steimle states, "You don't have to be the best at something to be an expert"—all you really need is to know enough to help someone who knows less than you. The expert zones for you as a teacher can function in the following ways:
They can strengthen your engagement with students by enabling you to make deeper connections with those who have similar talents.
They can inform your lesson planning. Integrating your talents into your lessons can make them more creative and innovative.
They can bring authenticity to your overall practice and humanize you in the process.
To illustrate how expert zones work, I will use former teacher and hip-hop recording artist Daniel "D Smoke" Farris as an example. D Smoke possesses expert zones in the following areas: mentoring, Inglewood, hip-hop culture, music theory, storytelling, college graduate, educator, Spanish, and black life. The diagram shows his expert zones with the red "educator" circle being the domain.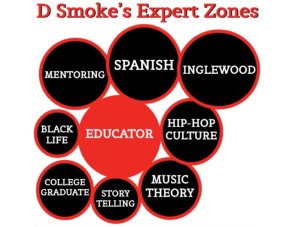 Courtesy of Kwame Sarfo-Mensah
Once you identify your expert zones, the next step is to determine how you can marry those zones with your work as an educator. Before making the transition to the music business full-time, D Smoke worked as a Spanish and music theory teacher at Inglewood High School, where he utilized his unique gifts, talents, and life experiences to create a positive classroom culture that produced a high level of student engagement. As illustrated in the diagram below, the intersection of D Smoke's identity as an educator with his unique expert zones represents his Educator Zone of Genius.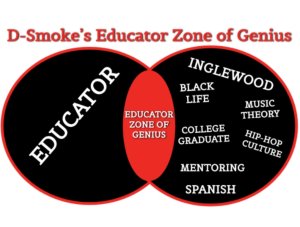 Courtesy of Kwame Sarfo-Mensah
Educator Zone of Genius Exercise
You can discover your Educator Zone of Genius to highlight the specific talents and skills that will help enhance your overall performance as an educator. For this exercise, you will do the following:
List all of the expert zones you can think of. Don't overthink it! Just write down whatever comes to your mind. Feel free to use the Zone of Genius resources as a guide to help you brainstorm.
From your list, identify the expert zones that you believe will help you be a more effective educator.
For each expert zone you have identified, explain in as much detail as possible how you can integrate that zone as a teacher.
Your Educator Zone of Genius encompasses your personal attributes and your overall identity as an individual. Award-winning educator Dr. Shaun Woodly would not be the teacher he is today if he hadn't married his love for hip-hop culture with his teacher identity to create the Teach Hustle Inspire brand and write his best-selling book, MC Means Move the Class. Cornelius George would not be "The Educator Comic" if he hadn't utilized his brand of comedy to create Laugh Your Class Off, an edutainment company that provides comedy shows and workshops to educators, students, and the community.
Given that we all come from different walks of life and are blessed with special gifts, it is practically impossible for us to replicate another teacher's instructional style and demeanor. Even if you attempt to do so, your students will immediately see that you're not being your authentic self.