Literacy
How Students Can Learn From Judging a Book by Its Cover
A close collaborative analysis of the text and graphics on book covers makes for a powerful literacy activity.
Judging the plots and genres of books by their covers is a student-owned inquiry and literacy exercise. When teachers use covers in this activity, they can immediately immerse students in grades 4 to 12—levels at which students tend to have the requisite skills—in close text and graphic analysis. From there, they can help students understand how a book's design prompts readers to wonder about the story within its pages.
This focused reading and writing exploration can be used in face-to-face instruction, remote instruction, and hybrid instruction models. It's also a helpful strategy for new teachers exploring literacy instruction, and it helps to engage English language learners in improving their literacy skills, making it widely applicable.
Assigning the Task
Share a book cover with your students, making sure to use a title that is not familiar to them, since their prior knowledge of it would affect their analysis. (Consider using very new books or works for adult readers, which will more likely be unfamiliar to students.) You can give them a worksheet to fill out to guide their analysis.
Start by challenging your students to analyze the text on the cover for potential plot and genre hints. For example, have the students focus on the title's meaning, making sure they look at the font style, too, for what it conveys (e.g., time period or mood). If there is a blurb at the top of the book from another author, what does that evidence point to in terms of plot and subject matter? If there is a subtitle, what does it evoke? From there, ask the students to examine the cover graphics (the colors, the images, and the background) for still more evidence of the book's content and genre.
Consider adding a collaborative component by having your students work in pairs or small groups, combining their notes on the cover, text, and visuals to form an evidence-based judgment of the book's content.
After students have considered the cover on their own, or in pairs if you opt to do that, launch a whole-class discussion.
What Class Discussion Looks Like
In the classroom, for example, using the cover of Libby Scott and Rebecca Westcott's Can You See Me? (recommended for grades 5–7), students might note the blurb above the title ("This glimpse into the world of a young autistic girl...") as well as the phrase "If the world doesn't see you... show them." When you're ready for the whole-class discussion, take notes on student contributions or have a student do that.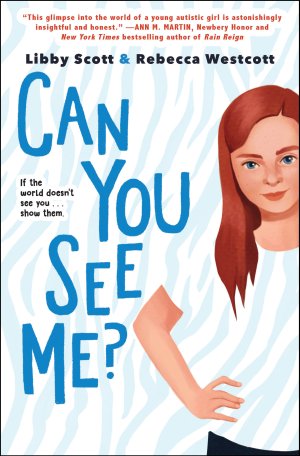 Courtesy of Scholastic Inc.
Start with the plot and genre ideas that students glean from the text, and then ask them to consider the graphic elements of the cover. Ask them what they anticipate the book's content will be, based on the cover art. A girl gazes at the outside world with her hand on her hip; her top blends into the light blue and white design of the background—what does that say about the character?
Have the student recorder note the comments shared by students regarding the graphic design. From there, teams of students can assemble the print text and graphic design clues into evidence of the book's plot and genre.
As a culminating activity, teams can share their conclusions, based on close analysis of the cover, and critique their peers' assessments. From there, students can go online and research the actual content of the book and see the extent to which their predictions were accurate.
You can use this "judge a book by its cover" activity in class, but it's also an engaging activity for an on-site or online parent event. Keep in mind as well that this activity can prompt students to explore career options in cover design, graphic arts, and publishing—for example, R.J. Palacio, author of the Wonder series, began her career as an illustrator.