Special Education
How to Help Students With IEPs Thrive
With adequate supports, students with individualized education programs can succeed in the general education curriculum.
Although the general education curriculum may have been poorly defined prior to the education reforms of the early 2000s, state education agencies have since undergone multiyear processes defining content standards to establish the foundation for the general education curriculum for all students. A majority of states have adopted the Common Core Standards (CC Standards). The Common Core State Standards Initiative (2021) takes pains to explain that their work is concerned with learning standards and that they are not providing a curriculum. It is up to states, school districts, and schools to figure out how to package and deliver the CC Standards content. Nevertheless, like any other comprehensive content and achievement standard document, the CC Standards set the instructional agenda and expectations for each grade level.
Honest Questions and Respectful Answers
Some educators may question why the general education curriculum should be given such primacy in relationship to the education of students with individualized education programs (IEPs). Their questions usually follow along these lines:
Aren't students who meet the criteria for eligibility for special education services by definition different learners than their peers?
If so, don't these differences mean they aren't able to succeed in the general education curriculum? Instead of setting them up for failure in general education classrooms, why not teach them something they can be successful in learning?
These are honest questions that deserve respectful answers.
The first point to be made is that meeting criteria associated with one of the 13 disability categories defined under IDEA does not make students with IEPs different learners, it means they have unique needs for support. The educational needs of students with IEPs are met by providing them with the supports they need, not by teaching them completely different content from that given to students without IEPs. Educators should strive to provide classrooms that have the capacity to educate all students, including those who have relatively more-​intense support needs in relation to their learning. When a student with an IEP is not learning in a general education classroom, the problem lies not with the curriculum being taught but with the absence of proper supports to facilitate the student's learning.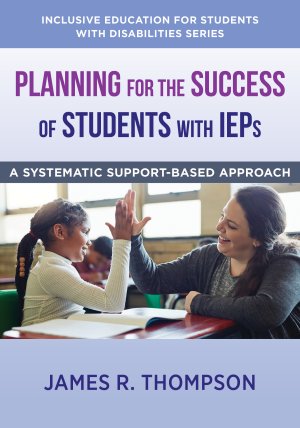 Courtesy of W. W. Norton & Company
In response to the second question, it must be pointed out that students with IEPs can and do make progress toward the same general education curriculum standards as their peers without IEPs. There are two types of standards associated with the general education curriculum: content standards and achievement standards. Content standards refer to the knowledge and skills students should learn at each grade level (Quenemoen & Thurlow, 2019). For instance, a content standard for the seventh-​grade social studies curriculum might be for students to compare and contrast everyday life in different periods and places around the world and to identify how some things change over time while others stay the same. Successful learning in regard to this content standard can be defined differently for different students. What might be evidence of significant success for one student in relationship to a content standard would just as clearly suggest unsatisfactory progress for another. Therefore, in regard to content standards, all students (including students with IEPs) can be successful because success is defined individually.
Achievement standards are different. They refer to how well students demonstrate the breadth and depth of information within the content standards (Quenemoen & Thurlow, 2019). These standards are assessed through standardized tests containing items that sample student performance across a content area. Assessments of achievement standards include items that are aligned with the most basic level as well as the most advanced level of mastery, with items of all difficulty levels in between. Assessments of achievement standards are used for accountability purposes; therefore, student performance assessments are considered to reflect the quality of education provided in a classroom, school, and school district. Should very few students meet the benchmark for success identified in the achievement standard, the quality of education is called into question. The wisdom of using standardized test scores to reflect the quality of instruction at a school is hotly debated (see Cramer et al., 2018; William, 2010).
Data over multiple years and across many different schools have shown that students with IEPs have achieved at levels that meet or exceed grade-​level benchmarks. So, the answer to the question, "Can students with IEPs be high achievers when taught the general education curriculum?" is a resounding "Yes!" Students with IEPs, however, are less likely to meet performance criteria than are students without IEPs (Quenemoen & Thurlow, 2019). However, being a member of a group that is statistically less likely to meet performance criteria is not a justifiable reason to deny students the opportunity to learn as much as they can.
State education agencies are allowed to exclude 10 percent of students with IEPs from standardized assessments that are aligned with achievement standards, although the excluded students must be evaluated using an alternate assessment to document their progress. But, 90 percent of students with IEPs are held to the same grade level of expectations as the rest of the student population (Quenemoen & Thurlow, 2019). Debates continue regarding how many students with IEPs should be included in assessments that are designed to measure grade-​level performance standards (Great Schools, 2010).
Of course, when students with or without IEPs do not meet the benchmarks associated with achievement standards, it does not mean that they did not benefit from access to the general education curriculum or from participation in general education classes. The students who did not meet yearly benchmarks may have fallen even further behind if they'd been denied access to the general education curriculum. Clearly, neither students with or without IEPs could be successful on achievement tests based on the general education curriculum if denied the opportunity to learn the content on which the test is based.
Excluding all students with IEPs from the general education curriculum and from yearly assessments measuring progress toward state achievement standards may increase a classroom's or school district's standardized test pass rate. But, if all students with IEPs were automatically denied access to the general education curriculum throughout their schooling, it is likely that only very few of them would meet achievement standards. Thus, excluding students with IEPs in the effort to make a school district's standardized scores look better to an external audience would do great harm to the large number of students with IEPs who meet grade-​level benchmarks. Moreover, excluding any group of students does nothing to improve instruction to a group of students who were not excluded.
The huge cost of excluding students with IEPs from the general education curriculum is that it denies them the opportunity to learn content and develop skills that society has said are important for all children to learn. When instruction for students with IEPs is grounded outside the general education curriculum, there is ample evidence to suggest that learning expectations are lower. Personal curricula based solely on IEP goals have shown to be consistently associated with low expectations (Shriner & DeStefano, 2003).
Before the movement to access the general education curriculum gathered steam in the early 2000s, it was common for students with IEPs to receive instruction targeted to deficits that were identified during an eligibility assessment. In this model, learning goals and objectives on IEPs were separate from the general education curriculum and usually consisted of isolated skill objectives that led to isolated instruction (Shriner & DeStefano, 2003). In contrast, instruction for students with IEPs that is grounded in the general education curriculum and provided in general education classrooms is not only more highly valued by society but is also associated with higher achievement (Kurth & Mastergeorge, 2012; Quenemoen & Thurlow, 2019).
The general education curriculum must be the starting point, the bedrock for what to teach students with IEPs. To do otherwise results in expectations for their learning and achievement that are far lower than what is expected of peers without IEPs. Lower expectations result in lower achievement. Put another way, when students with IEPs are told to not shoot for the stars, they will surely miss.