Career & Technical Education
Guiding Students to Set Up Professional Networks to Prepare for the Future
Students can make connections with people who will help them learn about professions they want to pursue—all before leaving school.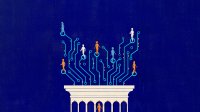 According to the Bureau of Labor Statistics, the average person will have at least 12 different jobs over their lifetime, many for roles that didn't exist just a few years ago. Navigating this new career landscape means being agile, developing skills and strengths that help students adapt, and having a strong professional network that can support them in their life after high school. In a world where who you know is as important as what you know, preparing students to develop their own professional networks is a vital skill for future success.
What is a PLN?
Personal learning networks (PLNs), sometimes called professional learning communities, are connections we make to other professionals, individuals, or organizations. These connections can be in person through our workplace or community, or online through social media networks and professional groups. We rely on these connections in a variety of ways:
To inspire our work with new ideas and resources
To engage as thought partners as we develop new ideas
To follow up as accountability partners to keep our work on track
To seek advice for mentorship when starting a new career or improving the work we're currently doing
As a teacher and education consultant, I rely on my own PLN all the time to elevate my practice, stay in touch with current trends, and offer moral support when times are tough. It's also a great way to connect with educators and schools to identify opportunities for collaborative projects.
What Makes a Good PLN?
A strong PLN is one that is dynamic, evolving, and active. It's more of a dialogue or conversation between members than a static road sign for passersby—you should share ideas and your perspective as much as you receive them.
Developing a diverse, resilient PLN often means connecting to people whom you don't know yet and who may live in different parts of the world. The best PLNs often leverage the features of online tools like Twitter and LinkedIn to help you identify and be seen by people with similar interests and goals. Adding your perspective, by posting useful content or commenting on other people's posts, helps others and highlights your unique expertise, skills, and strengths.
PLNs Provide a Purpose for Learning
We spend a lot of time and resources preparing middle and high school students for college and career readiness. This often takes shape as test prep or technical training. But these efforts are out of step with skills that business leaders say they need their employees to have.
The latest list of top job skills published by the World Economic Forum includes skills like originality and initiative, leadership and social influence, technology use, resilience, and flexibility. If we truly want to prepare our students for future success, it means providing experiences that strengthen their self-management and people skills. Something that developing and maintaining a PLN helps them achieve.
I begin by having students create a digital portfolio (personal website) where they can publish projects they created in class, share reflections on what they learned, and use the blog feature to post critical analysis essays. Their sites are published outside of our school LMS so they can take it with them when they graduate. That sense of ownership increases motivation and helps frame their learning as a way to improve themselves for their own future, not just to please their teacher.
Use PLN as a Goal-Setting Activity
Creating a PLN should always be about the future—what skills and people can help them achieve goals such as which college to attend, or how to get hired for a specific career. While students might not know where to begin with this kind of planning, developing a PLN can help them think through important details like where they might want to live, what brings them satisfaction, and where they see themselves in 10 or 20 years. A strong PLN allows students to create that support network to adapt and evolve as a learner and helps them develop the professional and emotional agility to weather economic and technological changes of the future.
Personality tests like Sparketype and Adobe Creative Type help students identify their strengths and skills to get a better sense of how they like to work, as well as what kinds of jobs they might want to have in the future. With this new clarity, students can begin to ask, who can help me find careers that are a good fit for my strengths and values, and what experiences or skills do I need to get hired for those kinds of jobs?
Many students struggle with these concepts, so I have them think about or research several successful people in careers that they might want to have, then find their profiles on LinkedIn and other social sites. Students can analyze what they post, see who they have in their networks, and, ideally, connect with that person via these social networks.
Encourage Students to 'Tell the story of You'
Students can tell the story of their learning and share their strengths, values, and experiences that demonstrate to others why they might be a good person to connect with. Online tools like LinkedIn help students share their biography, educational background, sample projects, work, and volunteer experiences. Telling their story is important, especially for young people who are just starting out. An online PLN helps students paint a true picture of who they are and what they can contribute to a larger community.
Have Students Share and Interact With their PLNs
Students can develop a content calendar of articles or other resources that relate to their goals and share them with their PLN on a regular basis. They can post content that they think others in their online audience will find useful or insightful. Here's an example of what a content calendar might look like:
Monday: Share a project you're working on.
Wednesday: Share an article related to your goals and interests.
Friday: Share an inspiring quote.
Be sure to encourage students to comment on other people's posts—sharing their unique insights—which adds value to a thread's conversation. Reposting content made by others helps students share those ideas with their audience and also notifies the original author of their action, which can get students noticed by influential people and can result in more connections.
It's vitally important to help students develop the resilience needed to continue their learning beyond the classroom, prepare them for rapid changes in the workplace, and help them connect their learning to their personal goals. Helping students develop a PLN is a great way to do this.