College Readiness
Fostering a College-Going Culture in Elementary School
Enlisting the support of alumni and professionals, a teacher encourages her second graders to start thinking about colleges and careers.
Each year, I start the school year thinking about my students' futures. I imagine them opening scholarship award letters from colleges and universities around the country. I envision them one day walking across a high school stage to receive their diplomas. I picture them going off to college to obtain a high-quality education that could lead to a better way of life.
I have always believed it is never too early to start preparing our students for the future, especially students who are up against many challenges. I teach second grade at a Title I school in Memphis, Tennessee, where many students have limited opportunities outside of school to explore a range of potential careers—especially in fields like science and math, where marginalized populations are particularly underrepresented.
Though elementary school teachers may think college and career preparation is outside the scope of their responsibilities, it is critically important for teachers to start conversations about the future early so that students begin to understand why school is important and why educators should raise the bar for their success. Teachers should always aim high and encourage students to change the world regardless of their chosen path—and whether they attend college or not.
To create a culture of college and career readiness, I implement several strategies in my classroom:
1.  Establish an Open Dialogue: For young elementary students, the notion of college and careers can seem abstract or far in the distant future, especially for students who may be the first in their family to obtain an advanced education. To make college more tangible, I regularly discuss various colleges and careers with my students so that they can start envisioning possibilities for their futures early on.
I share my own personal high school and college experiences to make the journey seem attainable. I talk about the dreams that my parents had for me and the vision that I had for myself, along with the challenges of being a student-athlete on a scholarship. I also regularly invite former students to discuss their own successes and challenges in college or their careers with current students. This helps students see and identify with adults who look like them and have achieved success.
2. Enlist Outside Support: While all students are dreamers, they often initially set their goals around what they hear or see in their households or communities. My students will discuss how they want to be police officers, teachers, chefs, or basketball players, which is fine, but I want to make sure that I expose them to new opportunities and ideas to close the opportunity gap. I want them to have more choices when they get older.
With this in mind, I regularly invite community speakers to visit my classroom to talk about their experiences, and have connected students to national and international professionals in a wide range of fields—including FBI agents and park rangers, to name a couple. We have Skyped with scientists to expose students to STEM careers, and I hosted several STEM Fests at my school where students could interact with guest panelists and exhibits. We even did career "speed dating," where professionals sit at tables and talk about their careers while students ask questions and rotate every few minutes.
3. Encourage Student Goals: To help my students set concrete goals for the future, each student in my class is tasked to create a one-page plan with his or her parents or guardians that answers the following questions: 
Courtesy of Melissa Collins
What career would you like to pursue when you are older?
What college would you like to attend?
How will you make your dreams come true?

Students' responses can differ substantially. I had one student write down that she wanted to attend Harvard to become a pediatrician, while another student wrote that he wanted to attend Jackson State to become a teacher.
Students then select a famous quote that inspires them to pursue their dreams and encourages positive self-talk. Once the plan is drafted, it is signed by the student and his or her guardian or parent(s), and placed in a keepsake frame that I display in the classroom. The students' plans may change as they get older; however, they are provided with a roadmap that reminds them to set ambitious goals and take steps to achieve them.
4. Celebrate Current and Future Success: It's important to remember that students will need encouragement to keep them moving forward on their learning journey. One way that I encourage my students to keep thinking about the future is by hosting a college reception with their families and community members. During the reception, we have a mini ceremony in which I wear my own college cap and gown to model for my students, who march in the classroom along with me for all our guests to see. Next, I call on students individually and allow them to wear my doctoral hood as they read their own college plan aloud to the audience.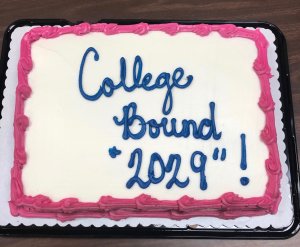 Courtesy of Melissa Collins
A cake from the college reception.
Last year, before the college reception, a student saw me in my graduation gown and said that she wanted a superhero cape like mine. That statement made me pause, and reminded me how education really can be a great equalizer when it empowers students to see the potential in themselves—and make their dreams a reality. As educators, we have the power to encourage our students to become their best selves so that they can be the change our society needs.