College Readiness
The First in Their Families, College Bound
Against the odds, seniors from this New York City school are attending and finishing college.
It was a frigid morning, but throngs of well-wishers lined the sidewalks of Audubon Avenue on the northern tip of Manhattan in early December anyway, cheering for seniors from Washington Heights Expeditionary Learning School (WHEELS). Waving to their supporters, the high school students proudly marched—some danced—past Amore's Beauty Salon and the Esmeraldo Bakery on their way to the post office on 180th Street.
They were going to do something that many of their parents never got the chance to do: mail out their first college applications.
Known as the College March, this education celebration began in 2011 at WHEELS, a pre-K to 12 public school in New York City that serves 100 percent low-income students, 90 percent of whom will be the first in their families to go to college. Since then, the march has been replicated by thousands of seniors around the country.
video
But the event is merely the capstone in a seven-year journey for WHEELS students and marks the beginning of one for their younger peers, who hold signs and jostle to see the upperclassmen start the next chapter of their lives.
At the school, students learn the differences between public and private colleges, prepare for the SAT, tour campuses, and get assistance filling out their Free Application for Federal Student Aid (FAFSA) forms and admissions applications. This heightened level of support continues as students choose, and eventually attend, college to help ensure they graduate with a degree.
"Starting in sixth grade, our students are saturated with the idea that they are going to college—we want it to be assumed that they are going," said Thomas Rochowicz, principal of WHEELS. "We know that we are preparing them not just for college access, but ultimately, for college and career success. That work takes time."
In the fall of 2016, 100 percent of WHEELS students applied to college, and 91 percent of the graduates enrolled. More than half attended a four-year college, and 63 percent of all alumni persisted into their junior year.
Starting Early
WHEELS was established by NYC Outward Bound Schools in 2006 with a mission to give students hands-on learning opportunities using the "city as a classroom." The school is open to any child in New York City, but most of WHEELS' 806 students come from Washington Heights, the predominantly low-income, Latino neighborhood around the school.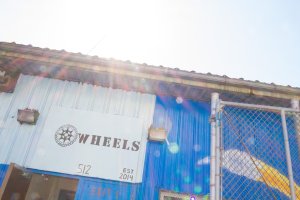 Derek Coy
WHEELS is a pre-K to 12 school of 806 students in Washington Heights in New York City. The school has an Expeditionary Learning (EL) model of instruction.
Like other NYC Outward Bound network schools, WHEELS uses the organization's "To and Through College" model to help students prepare for higher education—a comprehensive approach that addresses everything from logistics and deadlines to soft skills development.
Starting college preparation early is especially critical for WHEELS students, say staff, who emphasize that developing habits like a growth mindset and grit and setting high personal expectations can take time for kids who will be the first in their family to go to college.
As early as seventh grade, WHEELS students start visiting colleges—preparation that intensifies each year as they near graduation. By senior year, the average student has visited eight colleges on comprehensive tours, often with alumni, to show them what their lives will be like if they attend.
For student Darianny, a senior and first-generation college student who applied to SUNY (State University of New York) Binghamton, SUNY Albany, and Syracuse University, "the term college has been in our heads since we've walked through these doors."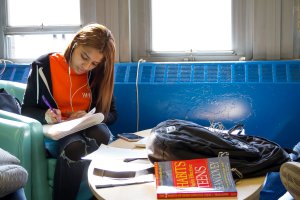 Derek Coy
A student works on an assignment in the College Access Room at WHEELS. The school helps students develop strong work habits and skills like a growth mindset and grit to help them succeed in college.
Darianny remembers watching older students participate in the march as an underclassman and thinking it was "years and years away"—and then finally the day arrived when it was her turn. 
"I think the highlight of the entire experience was when we physically took the copy and put it in the box to be mailed out," she said of the personal touch of mailing an application in an age of digital admissions. "Just having it in our hands and releasing it was an amazing experience. I could do it over and over again." 
The Right Fit 
Matching up students with the "right" college for their interests and academic abilities is just as important as the preparation, though, according to Daniel Morales-Armstrong, the lead college counselor at WHEELS.
One of the hardest parts is encouraging both the students and their parents not to undermatch a student—applying or attending a school that is not challenging enough—often an issue for kids in low-income areas, he explains.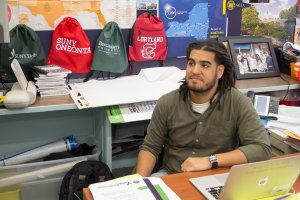 Derek Coy
Lead college counselor Daniel Morales-Armstrong in his office at WHEELS
Parents are mostly concerned with the college's cost and distance from home, but Morales-Armstrong encourages families to consider more competitive, private schools that may offer larger scholarships than local city colleges. WHEELS also hosts a FAFSA form night to help ensure students apply for financial aid. With this simple support from the staff, nearly all of the seniors fill out the FAFSA form, compared to just 67 percent of students city-wide.
Ibel Castellanos, mother of WHEELS senior Dannibel, said the support from the school not only helped her daughter find and choose colleges to apply to, but was essential in guiding both mother and daughter through the admissions and financial aid process—unfamiliar to Castellanos, who did not attend college and does not speak English.
"One of the best things students learn at WHEELS is that they are responsible for their own future," said Castellanos through a translator. "That they should look for opportunities to take responsibility themselves, not wait for their parents to make a decision."
Dannibel has already been accepted at several colleges and is waiting to hear from a few more, her mother said, adding that she supports her daughter in wherever she decides to go, even if it is far from home.
A Rough Awakening
But research shows the challenges for first-generation students like many at WHEELS don't end with an acceptance letter. Studies have found that first-generation students are much less likely to obtain a four-year college degree and are more likely to leave college for financial reasons than students with family members who have attended college. On average, only one in 10 low-income, first-generation students graduates on time.
Even with intensive support, college can be a rough awakening for WHEELS students, according to Julia Forman, an alumni manager at NYC Outward Bound Schools.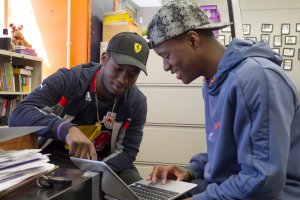 Derek Coy
Two WHEELS alums visit the school's College Access Room to work with the alumni advisor. The school maintains strong relationships with alumni after they head off to college.
Many colleges, especially larger public institutions, do not have adequate advisement. It's also not uncommon for WHEELS alums to face pressure to financially support their families while in college; some have dropped out when a family member couldn't work. Others have felt a sense of alienation from their community once they started attending college outside the area, Forman said.
To ensure that students aren't left hanging once they start college, WHEELS and NYC Outward Bound Schools staff help connect them to the right supports on campus. Staff members visit colleges several times a year to check in on alums and steer students to particular services or resources. The school also relies on its roughly 450 alumni to help new students through a peer mentorship program and more informal opportunities like group discussions on campus.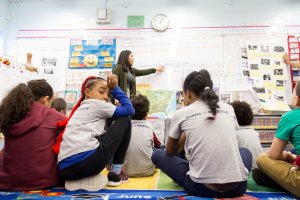 Derek Coy
Second grade teacher and WHEELS alumna Brendis Gonzalez gives a lesson to her class. Due to strong relationships, some alumni have returned to work at the school after college.
Some alumni, like Krystal Acevedo, have even returned to work at WHEELS to help students like the one she once was. Acevedo, who was in the school's first graduating class in 2011, received a bachelor's degree in sociology from City University of New York–Lehman College last year and has plans to go to graduate school.
"They taught us to be prepared, that life is not easy," said Acevedo. "But they also supported us so that everyone was able to do it, even the ones that thought that they couldn't. WHEELS always gave us that push so we could."