Literacy
Digital Tools to Support Choice Reading
Choice reading supports lifelong learning, but teachers often need help making the universe of books accessible to students.
When kids get to regularly pick reading material that genuinely interests them, they are far more likely to be happy, voluntary, and even voracious readers—both in school and at home.
But effectively building choice into classroom reading means striking a delicate balance between choice and assigned reading. Students need to spend time analyzing the elements of good writing, for example, but they also need a wide variety of diverse, fun reading that spans genres. It's the latter, for the most part, that keeps them invested and connected to the joy and magic of reading.
Choosing a book isn't always as easy as it sounds. There are students who don't have access to libraries and those who have access to them but don't have experience using them. Then there's the paradox of choice, a phenomenon where an overabundance of choices can inhibit committing to a single one. Same thing with books: Literally millions of options can stymie even the most eager readers.
Like any skill, choosing books requires some scaffolding—tools and techniques that kids and their teachers can deploy to make it easier. As Marilyn Pyle writes in MiddleWeb, sustained practice can be nurtured in any number of ways, from helping kids find and choose book clubs that match genres that attract them to reading for a few minutes every day in classes. Figuring out what to read, she says, is "a skill of lifelong readers. Unfortunately, it's not otherwise cultivated in most children's school careers."
For teachers, this means yet another skill to teach and another activity to manage—both of which can be challenging when students are reading different texts, if you're not deeply familiar with particular genres or if you struggle to keep on top of which YA fiction titles have just won awards.
We've done a little digging to find online resources and tips that can help teachers introduce students to new books and support sharing the love—without becoming overwhelmed themselves.
Loose Canon
Created by a novelist and former high school teacher, Loose Canon offers a browsing function that filters its robust book list in any number of ways—not just by grade level but by topics from Sports to Ecology and Classics to LGBTQ, so if you want to search classics that are also about sports, you can do that: filter for "sixth grade," "classics," and "sports," and presto, eight titles appear, ranging from Mike Lupica's Heat to Edward Bloor's Tangerine, each with a blurb from the publisher.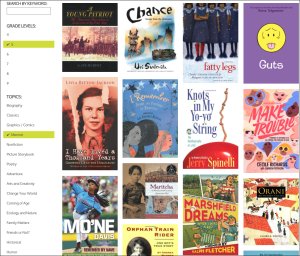 With Loose Canon, users can search by grade level and topic.
Loose Canon also helps teachers manage book clubs that can expand beyond a single classroom to include an entire school, and even track students' reading year by year with what the site calls a "reading résumé" that captures each student's reading path. The platform also features assessment ideas and classroom activities, and as of this writing, it's offering free six-month memberships to teachers.
Epic Reads
Epic Reads' videos are engaging, too: In addition to book trailers, it publishes video series such as Book Nerd Problems ("When Your Favorite Author Retweets You" and "Liking a Character Other People Don't") and gossipy Epic Adaptations (news on movie and TV adaptations, like who's been cast in the Netflix version of LGBTQ graphic novel favorite Heartstopper).
Book Club for Kids
Book Club for Kids is a podcast created and hosted by public radio journalist and author Kitty Felde. Students can browse episodes in which Felde discusses particular books with groups of children who have read them and sometimes hosts guest experts as well as authors. For example, with Spy School, the first book in the best-selling series, a group of children from a fifth-grade class in Washington, DC, discuss their love for the first book—and what it's like to live in a city rife with spies. "Celebrity reader" U.S. Rep. Eric Swalwell, a member of the House Intelligence Committee, joins in the fun by reading a passage from the book, and the book's author, Stuart Gibbs, shares what inspired him to write it.
Book Club for Kids is designed to be contagious, with kids serving as both contributors and consumers of the content. A group of kids can listen to an episode and become inspired to read and discuss the featured book, but it also plants the seed of an idea: They can choose and read a book themselves and become guests on the show.
Flordeliza L. Cadiz Marks, a library specialist also in Washington, DC, says that when elementary school kids listen to a Book Club for Kids podcast, they tend to chat about it with their friends, and that word of mouth can help guide reluctant readers. "Listening to what other students are saying about a particular chapter book prompts them to borrow the book and read it as best they can."
A third-grade teacher in Los Angeles, Joe Rodriguez, routinely uses Book Club for Kids on "Podcast Tuesdays." "I use Book Club for Kids to select independent reading, and I make sure to have books from the podcasts we listen to in our classroom library," he says. Rodriguez's students were also guests on a Book Club for Kids podcast about the book Spy Mice, by Heather Vogel Frederick.
Homegrown Solutions
Of course there are also ways to use various online tools that are not necessarily designed to support choice reading. Marks uses the drag-and-drop video maker Animoto to create book trailers like those an author would create for marketing, but just for her students to get them excited about new titles.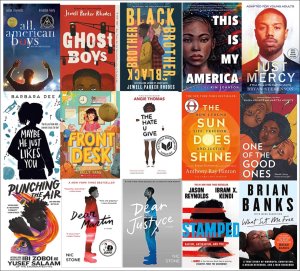 Middle school teacher Kasey Short uses the Notability app to create collages of book covers on a certain theme, like "Social Justice."
Edutopia contributor Kasey Short, a sixth-grade ELA and social studies teacher, uses her iPad to create videos in which she covers book choices; students can view them on their own time. She pairs these videos with collages she makes with the Notability app, its pages filled with a dozen or more book covers from books rooted in the same idea or theme. Together, the videos and collages help students zero in on books they'd like to read solo that are related to whole-class readings. For example, for a theme called "The Power of Love," each student chose from a list of books that explore the power of love and also read Elie Wiesel's Night as a class.
Laura Milligan, also an Edutopia contributor, notes that "Padlet is awesome for letting kids post about books they are excited about and want to share." She also uses BombBomb, a video messaging tool that's free for teachers, to create book teasers (similar to book trailers) for her students. With her Instagram, she reaches parents who are on the platform and follow her to get their buy-in. "I like to have kids share their recommendations, and then I might share their reviews of books along with mine," she says. "I read a lot of YA and middle-grade books, and my page serves as a cool way to connect with other readers, parents, and teachers."