Social & Emotional Learning (SEL)
Dance Into More Engaged Learning
Dance moves and choreography can be useful in boosting students' interest in and understanding of coding and other subjects.
Many students love to dance. How can teachers leverage this passion to motivate students and help them learn? Research shows learning through structured movement can be a fun and educational practice.
Not every classroom will need to have a dance party to make curricular connections. Like music, dances have countable steps that can be used to enhance learning. With proper planning, educators can use students' favorite dances to improve their understanding of new concepts and practices.
Use Existing Dances
Popular older dances like Cupid Shuffle, Cha Cha Slide, and the Electric Slide can be used to help bridge generational gaps with teachers. I have requested that colleagues quickly model an old dance step and share a word about its history. I find that this helps students connect to present dances and makes adults seem more relatable to the students. 
More modern fad dances can be used to enhance classroom culture by assisting learners in improving their social skills with their peers and teachers. For example, the Dab, the Floss, and the Shoot can be leveraged to help students become more communicative, empathetic, and conscientious towards one another.
I use these dances when the class needs a warm-up or for motivation when students need breaks or pick-me-ups. In instances where students may critique one another's dance steps, I redirect them and model appropriate feedback to others by using sentence stems: I like, I wonder, and I have. 
Connect Dance to Content
Code.org recently introduced the Dance Party coding tutorial, which uses dancing avatars to teach students how to code. The activity quickly became a class favorite as it capitalized on the students' love of the popular dance steps featured in the activities.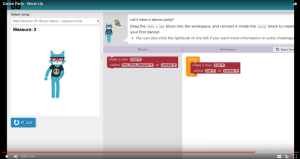 code.org
Since instructions for choreographing dance moves are similar to the logical instructions found in the algorithms within computer programs, I also instructed students to choreograph and execute dance steps as a scaffold for understanding how a series of steps are applied computationally when coding. The students designed algorithms that relied on the actions of users (inputs) to cause programs to respond in different ways (outputs).
Computer science students create choreography steps to demonstrate their algorithms and to check that the appropriate logic is applied. Some examples of other activities are painting nails, making a sandwich, and simulating a morning routine. Logical instructions executed in algorithms for computer programs are similar to the instructions for choreographing dance moves.
Beyond Coding
Teachers who do not teach coding can relate the choreographic process used in dance to any systematic approach used to solve problems within your curriculum. Students in any class can learn how choreography works as they apply simple logic to successfully execute everyday tasks. The process can be applied to other approaches, including the scientific method, design thinking, or the essay writing process.
The power of structured movement is not limited to the action itself. Students can express their feelings about a specific dance in a written reflection after viewing a video. The activity reinforces English skills including correct sentence structure and grammar while emphasizing their thoughts and feelings about the movement.
Dance can also be used to illustrate particular concepts. For example, in the science classroom, dance can be used to simulate the life cycle of various animals and also the photosynthesis process. A dance video by Jonathan Mann of Carnegie Plant Biology is a fun way to help young learners understand the vital role of plants and photosynthesis in sustaining life.
Incorporating movement into academic classrooms also nurtures creativity and enhances an appreciation for the arts. The youngest learners can learn a basic skill, like how to count, through a simple activity: recalling the steps in their favorite dances. 
A common practice at the cornerstone of all disciplines is to keep the momentum going to help students construct and connect learning in ways that are fun, engaging, and relevant. Movement and dance can be leveraged as an effective scaffold for capturing many concepts and practices across classrooms. Whether you teach coding or another discipline, structured movement can deepen student enjoyment of the learning experience.