Mental Health
Creating a Mindful Space for Self-Regulation
Setting aside a quiet room for elementary students who need time and strategies to regulate their emotions helps them return to class feeling ready to learn.
At Indian Hill Elementary School, we believe that when students are comfortable with their feelings, they engage and move easily through their school day. Emotional safety brings strong relationships, confidence to take academic risks, resiliency, and overall well-being. Our job as staff members is to support students in every step of this growth.
Prioritizing Students' Emotional Health
Through our own education and understanding of student needs, coupled with the daily support of students in the classroom, we recognized the increased need for student ownership of emotional regulation. With the help of a Greater Cincinnati Foundation Learning Links grant and a partnership with MindPeace, we developed our idea for the Brave Room: a place for students to utilize for calming, reducing stress, recharging, and practicing strategies needed to regulate their emotions. We wanted to honor our students by developing the most mindful space for prioritizing brain and emotional health.
Following a brainstorming session, we began to search for similar spaces at other schools. We discovered that a neighboring high school had developed a calming space. After the principal and school counselor visited their calming room, the team was determined to adapt the idea to our elementary school building. A team wrote up a design plan, and then wrote and submitted a room proposal for the grant to fund furnishings and calming tools. The room next door to the counselor's office was named the Brave Room. Full of excitement upon receiving the grant, the team ordered room supplies and assembled them for the first day of school.
Each August, staff member orientation reminds faculty of the mission, purpose, and protocol of the Brave Room. The Brave Room is for student proactive, self-regulating strategies and not for exclusion or punishment. Detailed procedures are provided for teachers to post, practice, and reiterate to students for clear expectations.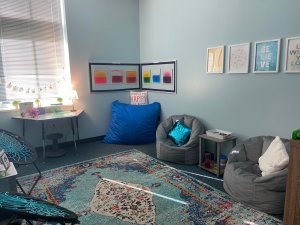 Courtesy of Sarah Kellett
The Brave Room at Indian Hill Elementary School
Establishing Procedures
The school counselor leads all students through Brave Room orientations within the first weeks of school. During small-group guided tours, application of coping strategies and the appropriate use of the room's sensory tools are explained. These procedures include the following: use of the Brave pass, how to sign in and out, time expectations (5–10 minutes), and how to use stations in the room effectively.
Examples of stations include a reflection opportunity, gratitude practice, a balance board, sensory tools, a Zen garden, a weighted stuffed animal, calming sounds, headphones, and a bubble wall. The school counselor reminds students of her location next door, her availability, and her support.
Our partners created a digital system that allows students to identify their feelings and rate the intensity of those feelings when entering and exiting the room. Captured data of Brave Room attendance informs staff members if additional support is needed for students and guides action steps for our building. As needed, the school counselor checks on individual students and develops additional care plans. While we have been fortunate to have our own digital system, schools could also use Google Forms to create an in-house system for students to check in and out.
Students can access the Brave Room throughout their school day based on individual needs. Our data shows that the Brave Room typically has the largest amount of visits at the beginning of the day and following recess. Transitioning to school day responsibilities and peer interactions at recess can both feel challenging. Time spent in the Brave Room encourages the students to reset emotions before engaging with classroom peers.
We have found that using the room proactively with planned, scheduled breaks for individual students has been very effective. Student response to the Brave Room has been most respectful and positive. Student ownership of the shared community room is crucial. Proper use of the Brave Room is modeled by the school counselor during student orientations and practiced by students. We continue to see students honor and value the Brave Room and its purpose.
Reducing Anxiety and Stress
Supporting students, earning their trust, and making students feel safe is a priority at any school age. The atmosphere of the Brave Room is welcoming and caring. Teachers see the Brave Room as a calming environment for student success. They recognize the positive reaction of students as they regulate their emotions before returning to class and express the effectiveness and value of the room. Many teachers and visiting families immediately comment on the calming effect the room has upon entering it.
Students routinely note that their level of anxiety has decreased after their time in the Brave Room and they are more productive and engaged when they return to the general classroom. In fact, families have shared that they have created their own Brave Room space at home, especially during school quarantines. This consistency from school to home strengthens the awareness and effectiveness of calming practices. Helping students breathe and reset is a lifelong valued skill. This is the goal of the Brave Room.
The Brave Room offers proactive support for students as they learn, change, grow, and embrace self-care.