Classroom Management
Creating a Learning Environment Where All Kids Feel Valued
A five-step exercise on identity and belonging helps middle school students appreciate differences—in themselves and in their peers.
At a bare minimum, my job as a teacher is to create a learning environment where all kids feel valued, safe, and eager to learn from everyone in the room. Often, though, as teachers, we get too distracted with getting through curriculum or testing to give enough attention to our classroom culture.
But the importance of ensuring that all students feel they can be themselves at school cannot be underestimated. Every day, our students are inundated with messages that magnify and expose the levels of hatred and injustice in our society. For marginalized students in particular, these dehumanizing behaviors make them feel "othered" or like outcasts. A good teacher makes an authentic connection with every student who walks through the door and makes them feel they belong.
This school year, I've been very purposeful about making sure that all of my middle school students feel safe and welcomed in my classroom. I bought extra posters and stickers that recognized and supported marginalized identities, so that all students would feel recognized. Normally, I do the usual icebreaker games to get to know my students, but this year I felt I had to do something more substantial. I started the school year by taking some time to get to know each student personally. I asked how they were feeling about the upcoming year, the world, our society, and any positive experiences or joy they had found during the summer.
But still, this didn't seem enough. I felt I needed to dedicate sufficient classroom time to help my students explore their own identities and those of their classmates. So instead of doing my typical Introduction to Health lesson this year, I developed a new one that encouraged students to examine how identity affects our place in society and how society affects how we express our identity.
A Five-Step Lesson Plan
What Is Identity? We started with the basic definition of identity, which I classified as characteristics or identifiers that make us unique or known, or that we are grouped by. These could include race, ethnicity, gender, disability, or sexual orientation, for example. We continued talking about how identity characteristics can be both visible and invisible, and repeated this quote aloud as a class twice: "Be proud of your personal identity, but always recognize and respect the personal identity characteristics of others." As a class, we discussed how we could live out the meaning of that quote. I shared, for example, that one of my identity characteristics is being a Christian but that I recognize and respect others with different religious or spiritual beliefs.
Probing Deeper: We then discussed the most common identity characteristics, including gender, race, ethnicity, religion, sexual orientation, disability, class, birthplace, and spoken languages. I explained that these groupings can go deeper than surface level. We talked about the difference between race and ethnicity, for example, and that gender is not always binary. It was amazing to see kids' eyes light up when they felt free to comfortably engage in an all-class conversation.
Stop, Collaborate, and Listen: Next, I decided to stretch their thinking. With the permission of several of my friends, I had students complete a "Stop, Collaborate, and Listen" exercise to determine the identity characteristics of other people. I placed pictures of six of my friends on the board and paired off students. Together, they had to come to an agreement on the identity characteristics of the adults in the pictures.
What visible identity characteristics do we agree this person has?
What possible invisible characteristics do we agree this person has?
Why do we think these are this person's visible/invisible characteristics?
Similar to a Think, Pair, Share, the Stop, Collaborate, and Listen activity required kids to use eye contact and confidence to introduce themselves to their partners. Often, with a partner or in group activities, certain students monopolize speaking time, but with this method, each student is required to both share and listen.
After groups made their guesses, we debriefed as a class, and I informed students of my friends' true identity characteristics. We repeated this process six times—once for each friend—and then came back together. I proceeded to share my own personal identity characteristics to be authentic with my students.
How Is Identity Formed? As we continued the identity lesson, we worked on two major tasks: building a better understanding of how society affects identity and completing personal identity portraits. We used a graphic organizer I created to have kids better understand privilege and bias, and how society affects people with different identity characteristics.
Students explored how particular challenges such as access to clean drinking water or bullying have greater or lesser impacts on specific groups of people. The organizer also asked students, "How can you help fix, stay safe, or be an ally for this issue?"
Identity Portraits: After completing their graphic organizers, students started on their final project, an identity portrait of themselves. I asked them to draw a picture of their face. One half of the face was supposed to look like them, and the other half displayed the visible and invisible identity characteristics they were proud of and/or comfortable sharing. This could be sexual orientation, nonbinary gender, nationality, or ethnicity.
These portraits were powerful, and I was grateful to see the level of confidence that many of my students expressed in their drawings. We then created a "Who We Are" wall with the pictures so that my students all know who they are and that they are all valued and safe in my classroom.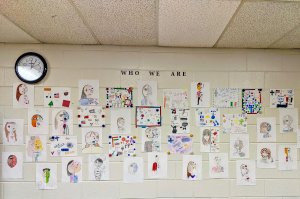 Courtesy of Shana White
Identity portraits hang on the wall in Shana White's classroom.
"Diversity is our strength" cannot really be true unless individuals with diverse backgrounds and lived experiences are earnestly valued, humanized, and respected. This lesson showed me that students are willing to empathize with others but sometimes need assistance from teachers to understand who they are, how they are unique, and how they can understand and support people who are different from themselves.