Administration & Leadership
4 Ways to Celebrate High School Graduation This Year
With coronavirus school closures extending into the fall, districts are coming up with clever alternatives to give seniors the graduation ceremony they deserve.
In high schools, the last few months of the school year are typically filled with a flurry of celebrations—prom, pep rallies, yearbook signing—culminating in the final rite of passage for seniors: graduation.
But coronavirus school closures this spring have upended the traditional pomp and circumstance, leaving students across the country, especially seniors, feeling untethered and a bit lost. "I felt very disappointed, cheated, and forgotten when all of my milestone experiences were canceled," shared Charlotte, a senior in Atlanta, who wonders if she will get to wear her graduation robes and cap. "It's hard knowing that I might not ever see my graduating class in its entirety ever again."
Although a number of states have already decided they won't reopen schools this school year, many districts are still waiting for news from state leaders, making it a challenge for administrators to plan, and many have left the graduation decision unresolved.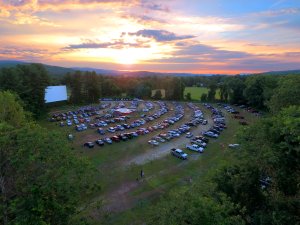 Courtesy of Gabe Shakour
Pioneer Valley Regional School in Northfield, Massachusetts, is celebrating their graduation at the Northfield Drive-In this year.
For students, families, and teachers, it's left them frustrated, we've heard. "I understand the reason behind waiting for more information to be gathered before making any large decisions, but it is hard to cope with the countless 'maybes' given by school administrations everywhere," said Olivia, a senior in Hillsdale, New Jersey. "The most helpful thing for me to have from my school right now would be some answers. I want to know what the plan is if graduation and other activities are canceled. Are they out of the question entirely or just postponed? Will they take on a new form?"
But while many districts are still undecided—or have set a later date for graduation and are hoping for the best—other districts have come up with clever alternatives to give seniors a send-off at the end of a tumultuous school year.
Recognizing Seniors
With or without a decision on an in-person graduation, a number of districts are finding ways to recognize and commemorate seniors now.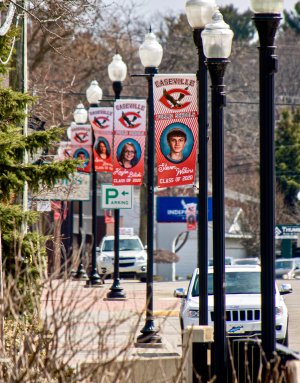 Courtesy of Caseville Public Schools
Caseville Public School honored its graduating Class of 2020 by displaying each senior on streetlamp banners through town, which seniors will get to keep.
In the Caseville Public School district, in Caseville, Michigan, banners with every senior's class photo have been hung on lampposts that line the streets in town (they'll get to keep them), while in Hillsdale, New Jersey, a parent organization at Pascack Valley High School distributed yard signs with the message, "Class of 2020—#PVStrong—We're with you!" for local families to display. Every Friday night at 8:20 p.m. (20:20 military time), the school's football field lights are lit up for 20 minutes and 20 seconds to recognize the Class of 2020.
Since everyone is stuck inside, a number of schools, including Pascack Valley High, have turned to social media platforms like Instagram or other digital tools to commemorate seniors publicly.
Schools have posted senior class photos to showcase students' college acceptances, accomplishments in high school, or just memories through the years. Others are creating virtual yearbooks that students can sign, or making videos with teachers' reflections about each student. And at Vernon Hills High School, in Vernon Hills, Illinois, Principal Jon Guillaume spent four hours painting a mural at his high school with every senior's name and the words "Seniors: Not Forgotten." The final, celebratory video has already amassed over 77,000 views.
video
Going Virtual
Palm Beach County School District in southern Florida has committed to holding virtual graduation ceremonies for all 23 of its high schools in May that will air on local TV—Comcast and AT&T U-verse—and stream on the district's website. During the virtual ceremony, students and their families will hear prerecorded messages from speakers, edited together in the flow of a traditional graduation ceremony, and their names will be announced with their photo displayed. Similarly, Natomas Unified School District, in Sacramento, California, will broadcast a graduation video on YouTube and the district website that includes prerecorded graduation speeches.
Other districts have looked outside the school system to give students something special this year. On social media platforms, educators have asked celebrities like John Krasinski, from the TV show The Office, and even Barack Obama to record graduation speeches or messages for seniors. iHeartRadio, a music and podcast app, is also hosting a podcast of Class of 2020 commencement speeches from well-known celebrities, like John Legend, Jimmy Fallon, and Hillary Clinton, on May 15.
Meanwhile, some students are even taking matters into their own hands. Ruby Allison, a senior at Hunter College High School in New York City, and about 10 of her classmates built a replica of their school on Minecraft to host a virtual graduation. Instead of the typical speeches, it will be an opportunity for the almost 150 seniors to connect as a group one last time. Students can join a group call, and the event will be streamed for students who don't have Minecraft.
Stay in Your Cars
The Hanover Area School District, in Hanover Township, Pennsylvania, for example—and others, like Pioneer Valley Regional School, in Northfield, Massachusetts, and Idaho Falls School District #91, in Idaho Falls, Idaho—are turning to a relic from the past: the drive-in movie theater.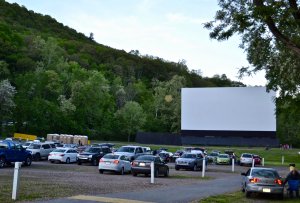 Courtesy of Ian Bell
Hanover Area School District families in Hanover Township, Pennsylvania, will be celebrating their seniors at the Garden Drive-In.
In nearby Hunlock Creek, the Hanover district is hosting their graduation at the old Garden Drive-In—a local staple that families have enjoyed for generations. The ceremony will kick off with a car parade at the high school led by the local police officers and firefighters. In a single-file line, families will slowly drive five miles to the theater, greeted by socially distanced staff, cheerleaders, and the marching band along the way. At the drive-in, a prerecorded ceremony, with messages from the principal, valedictorian, and salutatorian, will play on the big screen, while families will tune in to the radio to listen.
Nathan Barrett, the district's superintendent, says they're also planning on having a cap toss at the end of the ceremony, and photos will be taken for the yearbook. "It's been quite the ride since the announcement," says Barrett, referring to the news of the school closure. "We're creating great attention for these students who thought they were losing out. They're actually experiencing something more significant than the traditional ceremony, in my opinion."
In Kentucky, Boyd County High School recently announced that it would be hosting a drive-through graduation in mid-May. Led by the school's valedictorian and salutatorian, students and their families will drive through a designated loop in the high school parking lot while prerecorded speeches from school staff and students are broadcast over the radio. Students will be able to get out of their car at a designated spot to have their name called and their picture taken; photos will be distributed afterward to families for free.
Graduation, the Social Distancing Version
Other schools are planning a hybrid in-person and virtual graduation ceremony to adhere to social distancing mandates while giving students the experience of walking across a stage to get their diploma.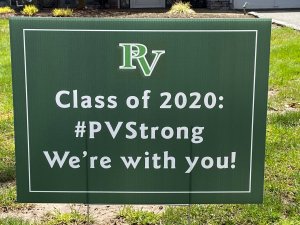 Courtesy of Elena Spathis
A New Jersey parent organization at Pascack Valley High School distributed yard signs to local families to celebrate seniors.
Marshal County School District, in Marshal County, West Virginia, for example, is scheduling small groups of seniors to come to the high school and walk across the stage, six feet apart from their peers, and receive a prop diploma from the principal, who will wear a mask and gloves. (An official diploma will be mailed to students later.) A videographer will film each student to make a compilation video afterward, and a representative from the Health Department will be on hand to ensure that safety protocols are followed.
Gulfport High School, in Gulfport, Mississippi, has committed to a similar approach, but it will let up to four members of each student's family attend—all keeping a safe distance apart. The footage of students walking across the stage will be edited together into a single video that will include prerecorded features of a traditional graduation, like a performance by the choir, acknowledgment of the valedictorian and salutatorian, and speeches from students. Students and their families can then watch the ceremony at home when it airs online at a later date.