Maker Education
12 Picture Books to Motivate Young Makers
Books that inspire students to turn materials like cardboard, wood, and fabric scraps into feats of engineering and resourcefulness.
A long time ago in a '70s kitchen far away, there was a cabinet, and in that cabinet was a large brown paper bag filled with treasure. Upon closer inspection of that bag, you might say, "Hey, that's not treasure. That's just toilet paper tubes, a shoebox, and some corks."
We both would be correct in our assessments.
The kitchen cabinet was in my childhood home, and our family referred to that treasure trove as "good junk." Good junk could best be defined as items that no longer served their original purpose but were too interesting to throw away. These objects were perfect for investigating, assembling, and transforming into one-of-a-kind toys, facilitating hours of play.
Construction activities are a standard in early childhood classrooms. Each day, children build with blocks, assemble puzzles, and explore manipulatives. Most construction sets, however, are not designed for fully open-ended investigations; as a teacher, I felt that good-junk exploration could potentially create that opportunity. When I began to see students transform craft materials (like pom-poms and foam pieces) and recyclables (like a masking tape ring and cardboard strips) into such creations as "a baby chick with an elevated hot tub and diving board," I knew I was on the right track.
To facilitate open-ended inquiry with unconventional materials, a teacher should set the stage and make sure materials are organized and child accessible. Teachers must also be available for consultation or construction help, like using a glue gun, for instance. As students explore, evaluate, and select materials, they can utilize maker tools—such as glue, tape, scissors, and markers—to assemble and create objects inspired by the materials as well as their imaginations.
When a child constructs a unique object from unconventional materials like cardboard boxes, plastic containers, or wood scraps, they learn engineering fundamentals as well as elements of the creative process. Children who repeatedly and vigilantly work at designing new objects learn persistence and elevate their resilience level. The uniqueness of each piece they create offers students the opportunity to celebrate the process and product.
The 12 picture books below feature tinkerers, inventors, and makers; each book is likely to prompt STEM/STEAM discussions. Characters demonstrate initiative, resourcefulness, and 3D problem-solving strategies as they utilize good junk and other available items to inspire and enhance their inventions.
12 Picture Books to Foster a Maker Mindset
Gus's Garage by Leo Timmers. Gus the pig is a resourceful mechanic who always comes through with the right junk for the right fix. (Preschool–grade 1) 
Mr. King's Things by Geneviève Côté. Mr. King loves to shop. But when he brings something new into the house, he throws an older thing into the pond. This is a recipe for disaster, but it's also the beginning of a tale of resourcefulness. (Preschool–grade 2)
The Most Magnificent Thing by Ashley Spires. A little girl intends to make "the most magnificent thing in the world." Fortunately she has a faithful assistant, vast resources, and determination. (Preschool–grade 2)
With My Hands: Poems About Making Things by Amy Ludwig VanDerwater, illustrated by Lou Fancher and Steve Johnson. Twenty-six poems to inspire all young makers—painters, knitters, potters, and even cookie bakers. (Preschool–grade 3)
Be a Maker by Katey Howes, illustrated by Elizabet Vuković. The call of this book is "today, what will you make?" With each turn of the page, a child proposes and considers a possible maker activity. (Preschool– grade 3)
Doll-E 1.0 by Shanda McCloskey. Charlotte is interested in all things technology and is mystified when her mother gives her a doll that seemingly does… not much. (Preschool–grade 3)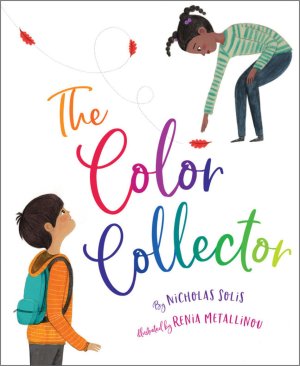 Courtesy of Sleeping Bear Press
The Color Collector by Nicholas Solis, illustrated by Renia Metallinou. This story features a curious boy, a mysterious girl, and a beautiful found-object mosaic. (Grades K–3)
Have Fun, Molly Lou Melon by Patty Lovell, illustrated by David Catrow. Inspired by her grandmother's sage advice, some "thingamabobs," and her imagination, Molly Lou Melon can make anything. Molly's new neighbor Gertie is "bored, bored, bored." Molly to the rescue! (Grades K–3)
Izzy Gizmo by Pip Jones, illustrated by Sara Ogilvie. Izzy is an engineer in heart and deed. Her greatest challenge yet is to make new wings for her injured pet crow. (Grades K–3)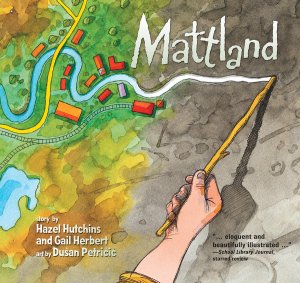 Courtesy of Annick Press
Mattland by Hazel Hutchins and Gail Herbert, illustrated by Dušan Petričić. A lonely boy, a patch of mud, and a stick soon become the beginnings of a town. With the help of some new friends, and assorted pieces of junk, Mattland is a bustling community. (Grades K–3)
Rosie Revere, Engineer by Andrea Beaty, illustrated by David Roberts. Rosie is a collector, a dreamer, and an engineer. She faces disappointment time and time again but is able to rally with the love and support of her family. (Grades K–3)