School Libraries
How to Help an International School: Give the Gift of Books — and More
Teach children a global lesson by donating books and other needed supplies to schools around the world.
In the neediest parts of the developing world, library shelves sit empty, and schoolchildren often go empty handed. According to the nonprofit organization Books for Africa, the continent is having a book famine. The group notes, "It is common across Africa to see five or six schoolchildren sharing one book." This book shortage also affects other areas of the world, where schools lack even the most basic materials to educate their students. As a result, young minds go hungry.
The good news is that students in the United States can help -- and get a real-world lesson in global poverty while they're at it. There are many ways you and your school can share resources with those who need them most. Here's how:
Hold a Book Drive
Books that are forgotten, unused, or simply already read may be clutter in your bookcase or your school's closet, but in the right circumstances, they can be treasure to a child on the other side of the planet.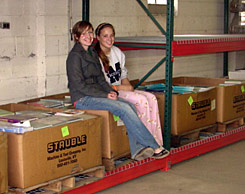 Credit: Bud Theobald
Box Set: Angie Lockhart and Alysun Theobald display boxfuls of books they collected for donation.
During their fall semester, high school seniors Alysun Theobald and Angie Lockhart, in Louisville, Kentucky, decided to gather books for the nonprofit organization International Book Project to send to needy children abroad. The girls sent letters to schools throughout their area asking for donations and organized a book drive at a local sports center, where they collected more than 1,500 books and raised $800 for shipping. In the process, the two students adopted the cause of the world's poorest children and made a video about their plight called Education Deprivation.
"I like to think I reached two people with every book we sent over, and it's amazing to realize we reached more than 3,000 children," Theobald says. "I believe everyone that donated felt better about themselves, no matter how small their contribution."
Numerous organizations around the country take unwanted books and ship them to where they're desperately needed. Students can choose a group to help and then hold a book drive at school or during a school event.
Tip: Don't forget to check first what kinds of books the organization does -- and doesn't -- need. It's important to control the quality of the books you donate.
Host a Fundraiser
Every year, the Marcellus Central Schools, in Marcellus, New York, put on a play to raise money for a good cause. When the schools chose Books for Africa as the beneficiary last year, teacher George Mango turned the good deed into a project-learning opportunity for his students, too.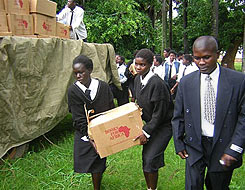 Photo courtesy of Books for Africa
Weighty Subjects: Teenagers from Chifunabuli Basic School, in rural Zambia, haul books to their new library.
The schools could afford to sponsor part of a container of books to an African country, so Mango developed a contest to determine which country would get the shipment. "I had groups of sixth-grade students research an assigned African country, identify problems with that country, and present potential solutions to those problems using PowerPoint," explains Mango. Other classes watched and voted on the best presentation. The books would go to the country that won the vote. In this instance, it was Nigeria.
"The kids that were in the class learned about the problems in Africa," Mango says. "They had no idea. It just opened their eyes to a world they didn't know about."
In the end, the play raised about $3,000, of which the schools donated $2,500 to pay for the shipment to Nigeria. They used the other $500 to send some of their own remaindered textbooks to Books for Africa.
Tip: If you hold a book drive, sell any books that aren't suited for shipping to help with the costs of the books you do send.
Find a Sister School
Cesar Chavez Elementary School, a Spanish-immersion school, in Davis, California, has discovered a way to bring the Spanish-speaking world to life for its students while also allowing them to share ideas and resources with other kids: It found a sister school in rural Nicaragua.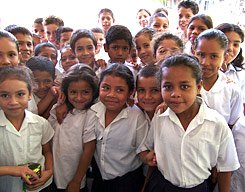 Credit: Annie Bacon
Foreign Correspondents: These Nicaraguan children are pen pals with students in Alameda, California, through the organization Seeds of Learning.
"This was a logical way for our students to practice their Spanish in a real way while making connections with Nicaraguan students," says fourth- and fifth-grade science teacher Sarah Fonte.
The students from both schools exchange packets with descriptions and drawings of their families, communities, and cultures, including recipes for local foods. "In order to do this, we had to really think about what foods they would grow in the Nicaraguan climate and in this area where there is no grocery store," explains Fonte. "We are working on a recipe for pizza they can bake in traditional ovens. This will be part of our unit on chemical reactions and mixtures in science class."
Cesar Chavez found its sister school, the two-room El Tempisque, two years ago through Seeds of Learning, an organization that builds schools in Nicaragua and El Salvador and pairs them with U.S. schools. For three years, Fonte has traveled to Nicaragua as part of the Seeds of Learning teacher group to meet with Nicaraguan educators.
Through these interactions, Fonte has developed a relationship with the teachers at El Tempisque, allowing her to share resources with them based on what they need most. "A teacher might ask me if I can send some student-friendly lessons about the nitrogen cycle in the next packet, and I use the resources I have here to make that happen," Fonte says.
"Last year, while my students were studying magnetism and electricity, they wrote instructions for their favorite experiments, and I delivered these to the school along with a donation of simple magnets and circuitry supplies," she adds.
Tip: If you decide to send materials to a sister school or another organization overseas, be sure to ask teachers or administrators there what they need -- and what they can't use -- to make your shipments as effective as possible. Ship books through the U.S. Postal Service. Masha Hamilton, founder of the Camel Book Drive, says the most economical way to send small quantities is in a USPS flat-rate box in groups of 20 pounds or less, which costs $37 per box.
Help with the Work
Of course, sending materials abroad doesn't just require the materials themselves and the money to send them; it also calls for hours of sorting and packing. At L'Etoile du Nord French Immersion School, in St. Paul, Minnesota, a group of sixth-grade students volunteered to help Books for Africa with this type of work after holding a book drive for the organization.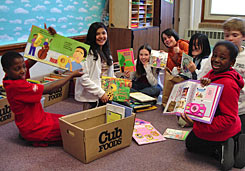 Credit: Audrey Gagnaire
Proud Pupils: Sixth graders at L'Etoile du Nord French Immersion School, in St. Paul, Minnesota, display books bound for Africa.
Service-learning coordinator Christi Schmitt, who worked with a sixth-grade teacher to organize the project, says they tried to maximize the educational impact of this work on their students. Books for Africa's development director gave a presentation to the students that woke them up to the realities of the countries they were aiming to help.
Since that visit, the kids have continued the project by sharing what they've learned through a presentation of their own. "They have documented their experiences on video, written service-learning grant proposals to raise awareness of the book famine, and interviewed employees and volunteers," Schmitt explains.
Halfway across the country, parent Beth McKnight, of Alamo, California, raves about a volunteering field trip her children's school took to the nonprofit organization Books for the Barrios. That visit inspired McKnight to organize a church volunteer group herself.
Books for the Barrios sends much-needed materials to some of the most remote isolated areas in the Philippines. "The students sat on the floor and cofounder Nancy Harrington told them about these kids in the remote barrios who have absolutely nothing, and how the books they have are just tattered and moldy," McKnight says. "The library shelves are unused."
After the presentation, children helped pack books into boxes, decorating them with pictures for their peers a world away. After a closing slide show, the field trip ended with a group discussion about what they had learned and how it made them feel. "It's incredible to go around the classroom and hear what the kids have learned throughout the day," notes McKnight. "Most of the parents that I saw the next day said, 'My kids talked about that field trip all day.'"
Laila Weir is a contributing editor and writer for Edutopia. Her work has appeared in magazines, newspapers, and online publications around the world.
Books and Buddies: Organizations That Link Schools from Afar
Here are descriptions and wish lists for groups that ship books to other countries:
The organization accepts donations of new and used books and school supplies to distribute to children throughout Africa.
Hardcover or high-quality softcover fiction and nonfiction books
Reference books, such as full sets of encyclopedias and dictionaries less than fifteen years old
Textbooks, preferably full sets
Classroom charts, such as current maps, chemistry tables, and so on
The group accepts new and used educational materials to distribute to children in remote areas of the Philippines. According to its Web site, Books for the Barrios believes that "strengthening education is the key element in securing economic development and a better quality of life for citizens around the world."
Games, toys, sports equipment, and children's summer clothes
Crayons, pencils, scissors, and other school and art supplies
Children's storybooks
Textbooks for math, science, and English
Encyclopedias and dictionaries from 1985 to the present
Computers (Pentium III or better)
Author Masha Hamilton organized a book drive to support an unusual library in Kenya that uses camels to take books to seminomadic people in the country's remote northeast. "The books are spread out on grass mats beneath an acacia tree, and the library patrons, often barefoot, sometimes joined by goats or donkeys, gather with great excitement to choose their books," writes Hamilton, who wrote a novel about the library. Send books directly via the U.S. Postal Service. (See the service's website for details.)
New or lightly used paperbacks in English, Swahili, or Somali
Children's storybooks
Fiction for children and adults
Nonfiction books in subjects including astronomy, geography, and history
Books by African authors
This group collects good-quality used books to distribute throughout the world. Books that aren't needed overseas are sold at a bookstore; proceeds support the project. Schools or classes that provide a shipping contribution of $200 or more along with books can have the donation made in their name and can request the country or organization they want to donate to. (It's best to provide more than one alternative.) "It's great service learning for kids," says Executive Director Lynda Frazier, who suggests tying in a book drive with a lesson on a particular part of the world or a social topic.
Reference books, such as dictionaries and encyclopedias from 1990 or newer
English and grammar books
Textbooks from 2000 or newer on science, agriculture, math, the humanities, education, and world history
Fiction, literature anthologies, and nonfiction
Work with your class, club, or whole school to collect kits of school supplies to distribute to needy students around the world. The organization states, "In your neighborhood, basic school supplies such as pencils, pens, and notebooks may not seem difficult to acquire, but the same cannot be said for millions of other children around the world. Many cannot attend school simply because they do not have the necessary supplies to do so."
Check with these organizations to match your school with one in another country:
-- LW
Quality Control: Tips for Traveling Books
Given the costs of sending and processing supplies, it's always worthwhile to make sure you send only books and materials that will actually help. Before collecting or sending supplies, check with the organization or school you plan to send them to so you avoid overwhelming them with unneeded or unexpected shipments. Here are some issues to consider as you collect:
Physical condition: It's best to send books that are in good shape and will last for some time.
Age: Don't send books that are outdated, especially reference materials or textbooks.
Content: Send subject matter relevant to international readers, not America-centric topics such as U.S. history. Also, most groups don't want materials that promote particular religions.
Language: Most book-donation organizations request books in English only, though some need other languages. Check before sending foreign-language materials.