Professional Learning
After School with Barbara Boxer: Champion of Extracurricular Learning
The senator discusses efforts to promote after-school learning at the federal level.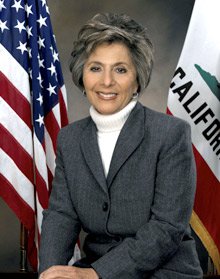 Credit: www.boxer.senate.gov
U.S. senator Barbara Boxer, a Democrat from California, has been a champion of after-school programs since long before the concept -- along with extended learning -- became a favorite topic among lawmakers and school administrators.
When she arrived in the Senate in 1993, there was -- hard to believe -- no dedicated funding stream for after-school programs in the federal budget, which was instead sending billions to school districts and states with little regard for what happened after the official school day was over.
What's more, few if any members of Congress were aware of the importance of the issue, much less active in securing attention and resources for after-school programs.
Nearly fifteen years later, things have changed dramatically.
During the 1990s, Boxer steadily raised awareness about the issue through floor statements, events, and proposed amendments to the annual budget and appropriations bills. Then, in 2001, she and other members of Congress successfully amended the Elementary and Secondary Education Act to create a specific funding stream for after-school programs. Funding for the program has approached $1 billion per year."
More on Learning Around the Clock
<?php print l('Fourteen Million Kids, Unsupervised:', 'fourteen-million-kids-unsupervised'); ????????????>

Afterschool Alliance director Jodi Grant proposes a solution. <?php print l('Read', 'fourteen-million-kids-unsupervised'); ????????????>
Real-World Learning
<?php print l('Students Make a Business of Learning:', 'students-make-business-learning'); ????????????>

At a high-risk high school, kids train to be entrepreneurs. <?php print l('Read', 'students-make-business-learning'); ????????????>
<?php print l('Go to complete coverage', 'new-day-for-learning'); ????????????>
Two years ago, Boxer founded the Senate After-School Caucus with Susan Collins, a Republican senator from Maine, and Dale Kildee, a Democratic colleague from Mississippi. As of last fall, a bipartisan group of thirty-six senators had signed up, along with seventy-three House members who formed their own congressional caucus on the issue. As a Democrat from California, Boxer is also well positioned to work with House leaders, such as Speaker Nancy Pelosi and Pelosi's fellow Democratic representative from California, George Miller, chair of the House Committee on Education and Labor.
"Senator Boxer has been on this issue since the beginning," says Jodi Grant, executive director of the Afterschool Alliance, a nonprofit group that advocates for expanded after-school offerings.
Despite this momentum, Boxer and her allies have their work cut out for them in the new Congress. In December, she persuaded all fourteen female senators to join her in urging President Bush to fund after-school programs so that "the fifteen million children who come home after school to an empty house can have the option of high-quality, safe after-school learning activities."
According to the letter they sent to the White House, "mayors in eighty-six cities reported that only one-third of the children needing after-school care were receiving it."
However, the Bush administration paid little attention. Instead, it proposed a budget for the next fiscal year that includes no new funding for the 21st Century Community Learning Centers, the main funding stream for after-school programs.
The centers, now funded at $981 million, were among several key after-school programs whose funding was not increased or that were targeted for elimination in the president's proposal. Their budget for the current year, not finalized until just recently, was also flat funded, and, despite Boxer's efforts, several key after-school earmarks were eliminated.
Meanwhile, attention is focused on reauthorizing the No Child Left Behind Act, which generally delivers most resources to in-school programs rather than after-school learning.
Insiders say Boxer must also make sure quality and implementation issues don't undercut support for the federal after-school effort, as happened during the 1990s with equally popular initiatives to reduce class size and modernize school buildings.
"Having Senator Boxer as one of our key leaders has been tremendously helpful," says Grant, who is planning a major event for April in Washington, DC. "We wouldn't be where we are without her, and we aim to go even further with her help."
Boxer recently participated in an email interview with Edutopia. Below, she answers some questions about the issue of after-school programs.
Where do things stand in terms of funding for after-school programs in the final agreement for fiscal year 2007 and the president's proposed funding levels for the next fiscal year?
The after-school portion of the No Child Left Behind Act, which I wrote with Senator John Ensign, a Republican from Nevada, authorized $1.25 billion in funding for after-school programs for fiscal year 2002 and an increase of $250 million in funding each year for the next five years, for a total of $2.5 billion next fiscal year.
Unfortunately, President Bush has failed to fully fund after-school programs and again proposed flat funding after-school programs at $981 million next fiscal year. This shortfall leaves over 1.5 million children out of after-school programs, including more than 271,500 children in California alone.
It saddens me greatly to realize President Bush is breaking his promise to our children by consistently underfunding a program that is proven to work.
How big has the Senate After-School Caucus grown since you started it two years ago, and what is its main focus for the upcoming year?
The After-School Caucus is always growing. People see how the program works and want to get involved. Our priority continues to be to ensure that all interested families have access to after-school programs.
Why do you think people are now paying so much attention to after-school and extended-learning issues? What was the catalyst?
People are seeing the results of after-school programs, which have been shown to keep children safe, reduce crime and drug use, and improve academic performance. Studies show that for every $1 invested in after-school programs, taxpayers save $3 in increased performance and compensation and reduced school costs and crime.
After-school care is not a luxury -- it is a critical investment in our children's future well-being and productivity.
What specifically needs to be done to the current NCLB to help promote more, and better, after-school options?
After-school programs work -- we just need more of them! And that means fully funding the programs as authorized under NCLB so that all interested children and families have access to them.
What do you think about school districts providing their own after-school programs, rather than paying outside companies to do the job?
I think this is a great idea. Who knows the educational needs of students better than the communities and districts in which they live, who already serve them? My legislation was not a mandate to make after-school programs a certain way. Different options can and should be available to children.
What will it take to break down the walls between in-school and after-school programs?
I don't think there are walls -- these two entities should be partnerships. In-school and after-school programs rely on each other to build a strong educational program for the children they serve. They share a common goal of high-quality, affordable after-school programs for all our nation's children.
Alexander Russo is a freelance journalist and author of the blog This Week in Education. He is a former policy adviser to two U.S. senators and to the chancellor of the New York City Public Schools, as well as a seventh- and tenth-grade English teacher.