Social & Emotional Learning (SEL)
Getting to Know Them: Paring the World Population Down to Basics
What if it is a small world after all?
I was in high school in 1979 when Iranian students took the staff of the U.S. embassy in Tehran hostage. Even with maps of Iran all over the news, I still had to mention Persian rugs, the shah, or the international oil supply to get any recognition of my parents' homeland.
Two decades later, with daily news focus on that region, Iran is better known in this country, but ignorance about many of the 6.4 billion inhabitants of our world and the lands they live in persists. Vivid ways to give students a global and cultural awareness exist, however. Notable among them is a project-based lesson plan from the 100 People Foundation.
Photographer Carolyn Jones and filmmaker Isabel Sadurni launched 100 People: A World Portrait to illustrate metaphorically our planet's population by showing visually what it would look like if there were only 100 people instead of an unimaginable 6 billion. What does a quick glimpse of those 100 Earth dwellers look like? Half would be female, 61 would be Asian, 50 would suffer from malnutrition, 1 would have a college education, and, for all the talk of the Internet binding the world together, just 1 would own a computer.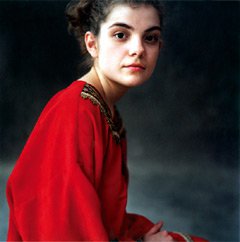 Credit: Carolyn Jones
To come up with a representative sample of the world's population, Jones and Sadurni turned to children. "Children are born color blind when it comes to people," Jones says. "They are without prejudice." Through the project, students, acting as interviewers and photographers, nominate people from their communities who inspire them. From the nominations, the project will winnow the list to a final 100 corresponding with the statistical model.
Opening their eyes to their own communities, learning about geography, statistics, and nature mapping, the project can provide students many lessons, not a few of them about the stark realities of a crowded world. Seventeen of 100 people have no safe, clean water to drink, for instance, and half don't have enough to eat. But as a powerful means to broaden global awareness, the project offers many points of entry to craft a curriculum. To get started, teachers can download a lesson plan from www.100people.org and begin their own journeys.
"I've spent my entire career telling stories, taking photographs, and talking to people who have inspired me," Jones says. "I believe we learn from one another." Especially when we look beyond our own backyards.
People Power: Candidates for a World Community
Students describe their nominees in words and pictures: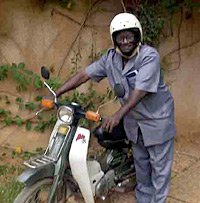 Credit: Aissa Barro
Adamou Diato
Adamou Diato, Niger
"Adamou Diato is my tutor and someone I respect. He is a Muslim who speaks Zarma, Peul, and Hausa and a little bit of English. His hobbies are watching television and teaching students on weekends."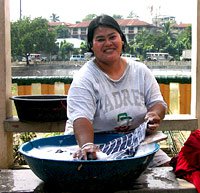 Adora, Philippines
"She works as a laundry lady, and earns $4.50 a day. Though she has never finished college, Adora dreams of someday becoming a nurse and helping the ill. Like most Filipinos, she chooses to light up her life with the steadfast belief that she is truly blessed."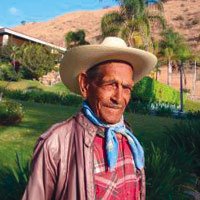 Credit: Luis Benavides Vila
Fermin Aguilera
Fermin Aguilera, Mexico
"Fermin Aguilera has spent most of his life gardening. Since he was a little boy, he used to help his dad pick up the dead leaves of the yards. Gardening is his whole life, and this reflects on his character and the way his sees life and nature."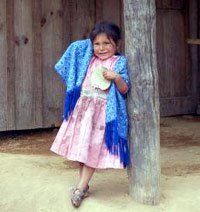 Credit: Luis Benavides Vila
Maria Teresa
Maria Teresa, Mexico
"Maria Teresa is the eighth daughter of ten. Her oldest brother left to work in the United States illegally to help his family have a better life. It's been a big help for Maria Teresa because now she can have enough clothing for her daily life and she can also go to school in La Cienega. She loves horses."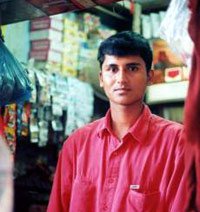 Credit: Omar Sana
Mohammed-Noor
Mohammed-Noor, Pakistan
"Growing up, Mohammed-Noor lived an impoverished life. When he was a child, Mohammed's father served as good role model, assuring him a public education through nothing more than hard work and dedication. At only twenty-one, Mohammed's future is still uncertain, but his desire to succeed is unwavering."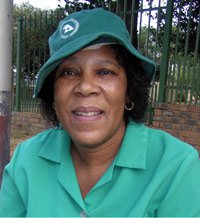 Credit: Jessica Snook
Queen
Queen, South Africa
"The apartheid era deeply affected Queen's life. She recalls being called dirty names and the abuse of the racist white people. She was forced to keep silent. When Nelson Mandela was finally freed, that was the happiest day of her life. Queen aspires to be a nurse. She wants to help care for the people, to give back to the community. She also wants to save money to build a home for her family so that they can be closer to her.
Population Profile: If the World Were 100 People
50 would be female
50 would be male
30 would be children
and of the 70 adults, 7 would be aged
61 Asians
12 Europeans
14 people from the Western Hemisphere
13 Africans
70 nonwhites
30 whites
33 Christians
18 Muslims
16 Hindus
6 Buddhists
1 Jew
11 who believe in other religions
15 who are nonreligious
1 with a college education
1 with a computer
14 unable to read
80 living in substandard housing
50 suffering from malnutrition
15 overweight
1 dying of starvation
Sources: "State of the Village Report," The Global Citizen, May 31,1990; Zero Population Growth Seattle, Unheard Voices: Celebrating Cultures from the Developing World.