Teacher Development
Resources and Downloads for Online Learning
Free tools, web links and other resources to help bring online learning to your school.
June 29, 2010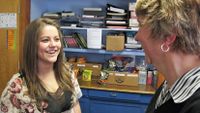 Photo credit: Grace Rubenstein
Tessa Beaver, left, says zoology was her favorite course with the Idaho Digital Learning Academy. Tessa went from being a year behind to graduating early with help from IDLA and Lorrie Houston, the IDLA site coordinator at Centerpoint Alternative High Sch
Tips for downloading: PDF files can be viewed on a wide variety of platforms -- both as a browser plug-in or a stand-alone application -- with Adobe's free Acrobat Reader program. Click here to download the latest version of Adobe Reader.
Click on any title link below to view or download that file.
Downloads to Help You Get Started
These are handy documents used every day by practitioners in the field who have offered them up here for you to download and use yourself. Many of these come from the Idaho Digital Learning Academy (IDLA), a state-sponsored program that serves 98 percent of districts in the state.
Sample Teacher Lessons from TeacherStream and K12OnlineSchools.org
These are lessons for teachers about how to do successful virtual instruction -- online training for teaching online. They're copyrighted by TeacherStream, but generously provided here for free to the Edutopia community. For more information on how to get started as an online teacher, click here.
Demonstrations and Tours of Online Courses
Want a quick peek at what an online course looks like? Here are places to start.
Standards and Best Practices
The International Association for K-12 Online Learning, or iNACOL, has published standards for quality of online courses, teaching, and programs. They also publish extensive research articles and chronicle best practices in online teaching and learning.
Articles and Miscellaneous Resources
Downloadable Research Papers
School Snapshot
Grades 9-12 | Statewide, ID
ABOUT THE SCHOOL
 The state-sponsored Idaho Digital Learning Academy (IDLA), an accredited, online virtual school has a rigorous system of teacher support and evaluation that emphasizes not only academic content but also student engagement, collaboration, and critical thinking. 
 
 IDLA works in partnership with Idaho school districts to offer a variety of online choices that would otherwise be unavailable to all students in Idaho. IDLA courses create flexibility in scheduling as well as access to dual credit or Advanced Placement courses for college credit.