Education Trends
Open Source: A Do-It-Yourself Movement to Change Education from the Bottom Up
April 28, 2010
Recently, I had the pleasure of attending DrupalCon, an annual developer's conference highlighting the open source content management system (CMS), Drupal. For those of you not familiar with the term "open source," it generally refers to a collaborative movement in which developers work together to create usable code that is made available to the public at no cost.
No cost? Yep - that's right. People work together to solve a problem and then share their resources to the community so others can use it. The resources also continue to evolve as a direct result of the community cooperation. Interesting concept, eh?
On day two of DrupalCon, I listened to Tim O'Reilly, a web 2.0 guru, as he stated that not only has open source continued to drive our society's capacity to act together and collaborate effectively, it has also sprouted the DIY (Do-It-Yourself) movement.
:: Listen to Tim O'Reilly speak at DrupalCon
:: View Tim O'Reilly's PowerPoint slides on Slideshare
O'Reilly used an intriguing metaphor to set the stage for the need of the DIY spirit by using a vending machine to represent our government. Like a vending machine, we put money in (taxes) and we get out a product (services). He took this metaphor a bit further by stating that when we think we're going to change the government, we think in terms of protest. We're going to "shake the vending machine" and try to get more out of it. And if any of you have shaken a vending machine, you know that you either break it entirely or hurt yourself (or others) doing it! ?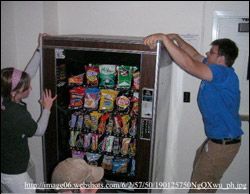 Instead of "shaking the vending machine," O'Reilly suggested that we can (and should) apply the Do-It-Yourself spirit on a civic scale. He mentioned a recent story about a washed out road that led to a state park in Kauai. When the community learned that the government wasn't going to be able to get to the road for 2-3 years, they got together and fixed the road themselves in as little as eight days!
Open source is a bottom-up movement that is slowly changing the world in a dramatic way. Through the DIY spirit it creates, it provides an opportunity for us to see what needs to be done and just do it. The fundamental question is: "Why can't we apply this DIY concept to education?"
How many road blocks and red tape have you encountered in your school or district when you wanted to do something new? Imagine a world where everyone worked together and collaborated to create the most effective solution to any of our educational problems. Many educators have been embracing this DIY spirit by using open source tools such as wikis, digital textbooks, and more, but the problem lies in the fact that these educators are isolated and not able to collaborate on a bigger scale to create real change.
In Tim O'Reilly's closing words, "We need to use technology to work on stuff that matters." I ask you, what's more important than education? I urge you to share your thoughts on how all of us can use the DIY spirit to fix our society and to build a better world.