#EdutopiaChat
Edutopia hosts a Twitter chat on the first Wednesday of every month at 4 p.m. PT / 7 p.m. ET. Check here for details on our next #EdutopiaChat.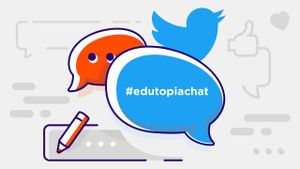 ©Creative Market
Our Next Chat: Decoding the Teenage Brain
For too long, assertions about teenagers—from their purported irrationality to their apparent sense of invulnerability—have circulated widely and uncritically. But now, new technologies are shedding light on what really makes them tick, providing clues on how we might reach them better. Join the next #Edutopiachat for a conversation about the science of the teenage brain.
The chat is based on Decoding the Teenage Brain (in 3 Charts) and will take place on April 3 at 4 pm PT / 7 pm ET.
What's a Twitter Chat, and How Does It Work?
A Twitter chat is a conversation that happens on Twitter. It's hosted by people who are interested in a particular topic. The hosts pose a series of questions that trigger conversation between the participants. There are hundreds of Twitter chats every month, and this article will help you learn how to participate.