#EdutopiaChat
Edutopia hosts a Twitter chat on the first Wednesday of every month at 4 p.m. PT / 7 p.m. ET. Check here for details on our next #EdutopiaChat.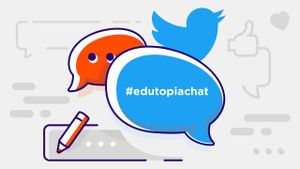 ©Creative Market
Our Next Chat: Integrating Project-Based Learning
Project-based learning is a dynamic classroom approach in which students actively explore real-world problems and challenges and acquire a deeper knowledge. But how can we make sure this learning is integrated into our curriculum in an authentic way? Or that we're accommodating the required standards in our units? Join the next #EdutopiaChat on July 3 at 4 pm PT (7 pm ET) for a conversation about integrating project-based learning.
What's a Twitter Chat, and How Does It Work?
A Twitter chat is a conversation that happens on Twitter. It's hosted by people who are interested in a particular topic. The hosts pose a series of questions that trigger conversation between the participants. There are hundreds of Twitter chats every month, and this article will help you learn how to participate.