Personal Learning Network
#EdutopiaChat
Edutopia hosts a Twitter chat on the first Wednesday of every month at 4 p.m. PT / 7 p.m. ET. Check here for details on our next #EdutopiaChat.
July 28, 2017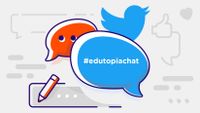 ©Creative Market
Our Next Chat: February 7, 2019
We recognize that the timing of #EdutopiaChat in December and January may be inconvenient for some, so we're putting them on hiatus for the winter. The chats will resume their normal schedule of the first Wednesday of the month on February 7, 2019.
What's a Twitter Chat, and How Does It Work?
A Twitter chat is a conversation that happens on Twitter. It's hosted by people who are interested in a particular topic. The hosts pose a series of questions that trigger conversation between the participants. There are hundreds of Twitter chats every month, and this article will help you learn how to participate.