Personal Learning Network
#EdutopiaChat
Edutopia hosts a Twitter chat on the first Wednesday of every month at 4 p.m. PT / 7 p.m. ET. Check here for details on our next #EdutopiaChat.
July 28, 2017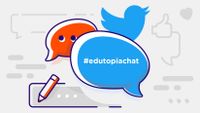 ©Creative Market
Our Next Chat
The topic on June 6 is Student Activism. Join us for a conversation about helping kids become engaged citizens and empowering them to change the world.
Add #EdutopiaChat to your calendar.
What's a Twitter Chat, and How Does It Work?
A Twitter chat is a conversation that happens on Twitter. It's hosted by people who are interested in a particular topic. The hosts pose a series of questions that trigger conversation between the participants. There are hundreds of Twitter chats every month, and this article will help you learn how to participate.