Teacher Leadership
5 Tips for Taking Advantage of Twitter Over the Summer
July 29, 2013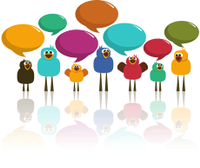 Image credit: iStockphoto
Ahh, summertime -- a time to relax and recharge. OK, well not really if you're an educator. In reality, educators are the most dedicated professionals I've met, and despite what the rest of the world may think, we know nobody really has summers off. But before summer officially ends and we start getting bombarded with back-to-school jingles, I thought I'd share some tips on how to make the most out of one of my favorite social networks: Twitter. Educators around the world use Twitter to become connected. And many people (including myself) credit Twitter as the best way to get on-demand professional development 24 hours a day, seven days a week. So how are people using Twitter, and how can you take advantage of it? Here are five tips to steer you in the right direction.
1. Join a Chat
There are literally hundreds of education-related Twitter chats. Follow this link to a list that shows all of the chats by day and time. Pick a chat and jump in during the specific time. (Newbie tip: Make sure to include the hashtag of the chat so others can see your tweets.) Whenever I join a chat, I always leave incredibly inspired -- and many times it motivates me to blog about my thoughts and experiences. Chats are also an effective way to engage authentically with other educators. I spend a lot of time on Twitter, and trust me when I say that the education space on this social network never disappoints. It's full of selfless, inspiring people that will jump at the chance to help you -- so let them, and pay it forward.
2. Follow Connected Educators
Educator Steven Anderson (@web20classroom) said it best: "Alone we are smart, together we are brilliant. Twitter helps us do that." Make sure you follow as many educators as you can, because you're taking advantage of Twitter's power to leverage collective intelligence. I love this list by @mcleod that includes over 500 educators. (Note: Scott McLeod also has three similar lists you can find on his profile.) I also created a list of edcamp organizers, which I think contains some of the most awesome people around. Still not convinced? Here's one of my colleagues, @BillSelak, eloquently talking about the power of being a connected educator:
3. RT as Much as You Share
Please don't be that person who just tweets about him- or herself! There are some very inspiring people on Twitter. Listen to what they have to say, and support them by retweeting (RT) and interacting with them. As a rule of thumb, I try to retweet just as much (and sometimes even more) than I tweet. So make friends and support your fellow educators. Want to learn more etiquette? Here's a great graphic by Educators Technology:
4. Have Fun
Make sure Twitter isn't another thing you have to do -- it should be something you want to do. Have fun with it. Make time to explore and get out of your comfort zone. And don't be hard on yourself. You'll make mistakes, but everyone does. Embrace it and move on. Twitter confession: sometimes I peek on what's trending on Twitter as a guilty pleasure. Right now, #TheBachelorette is trending. (Don't judge . . .) And if you're still not in the "fun" mood, this video may help you get into it a bit more:
5. Connect with One Educator a Week
It's not about the followers, it's about the authentic connections you've made. Summers are great, but let's face it -- sometimes we need some goals to keep us from getting distracted. I challenge you to make a goal of connecting to one new educator a week (and let me know in the comments below if you do this). Peruse some relevant hashtags, join a chat, and follow people to get started. To connect with someone, I usually end up commenting on their blog or reaching out to them personally via direct message or through a tweet that mentions them. They'll respond, and when they do, take note of what they're passionate about, and add them to your mental rolodex of people you can rely on for help or inspiration.
We all know that back-to-school can be an exciting but stressful time. Make sure you take some time over the summer to build up your professional learning network (PLN). Not only will it dramatically change your classroom and you, as a teacher, but it will also help support and inspire you when times are tough. See you on Twitter!