Education Trends
7 Ways To Do ISTE 2014 Your Way
June 16, 2014         Updated June 15, 2014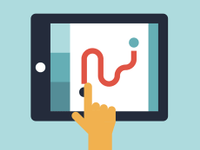 Image Credit: Edutopia
Do you smell that? If you're like me, the scent of anticipation and innovation from ISTE's annual conference in Atlanta has been tantalizing your senses more and more . . .
I've written a couple of posts on how to make ISTE awesome and a suggested to-do list, but for this year, I've put a different twist on it. I'd like you to make one goal for ISTE (and really all conferences you attend): do it your way. Here are some helpful tips for taking ownership of your learning at ISTE and making it a truly memorable experience.
1. Take the Path Less Traveled
Some of my most memorable moments at ISTE were not the keynotes or the buzz-worthy sessions. They were the activities that truly seemed interesting to me. Make sure you pick topics that you're interested in and check them out, regardless of where your colleagues are going or what's trending on Twitter.
ISTE Tip: ISTE's app can be a great tool to find what you're looking for. Just use the search feature. So far, I've been able to find exactly what I want. If you can't find what you're seeking, see my tip on getting unstructured -- consider asking people and potentially making your own impromptu "session."
2. Use the Rule of Two Feet
I'm an edcamper at heart, and one of the best rules of edcamp is that you can use your feet to leave a session when you feel that you've gotten enough out of it. I know what you're thinking: "If I leave, won't I be that rude person?" The answer is "No." Just trust me -- once you start attending sessions with the rule of two feet, you'll never look back. (And literally don't look back in case someone is giving you a dirty look -- just kidding!)
ISTE Tip: Use ISTE's app or this online program search to pick two or three things you might want to see at the same time. You might even be able to see all of them with your newfound love for this edcamp rule.
3. Find a Way to Help Someone
What keeps me going all day, every day, on social media for Edutopia? Making someone's day. It sounds cheesy but it works, and it's incredibly powerful. I challenge you to ask yourself that question at ISTE (and then, well, hopefully every day).
ISTE Tip: Follow the #ISTE2014 hashtag on Twitter to see if anyone needs help with anything. Even if someone isn't directly asking for help, suggest a resource or share some advice. And the little things count. Sometimes you can feel like cattle at these big conferences. Go ahead and make the extra effort. Whether you hold the door open for someone or buy them a cup of coffee, it all goes a long way.
4. Get Unstructured
You spend your entire year planning and following a routine, and now's the time to embrace the unknown. It's OK to have some things planned, but make a conscious effort to be OK with trying new things and not scheduling everything out.
ISTE Tip: Check out all of the ISTE Unplugged events (including one of my favorites, Hack Education, an all-day unconference on Friday). There's also a playground where you can roll up your sleeves and get making. If you're looking for other nontraditional activities, wander by the poster sessions or attend an ignite or pitchfest session.
5. Be OK with Not Doing It All
No matter what you do, there's no way to take advantage of everything ISTE offers. That's what Twitter is for. You should also take advantage of the recorded sessions ISTE provides.
ISTE Tip: Follow the #ISTE14 hashtag and keep up to date on all of the amazing information being shared. (Pro tip: use the favorites feature to favorite the resources and any thought-provoking quotes you come across.)
6. Make Time to Connect
This is something that I wished I'd learned three years ago. I'm fairly ADD (especially when I'm at ISTE), and it's pretty easy for me to get sucked into Twitter all day and forget the face-to-face interactions. I've been to a lot of conferences, and I can say that the ones that I truly remember are the ones where I've made extra time to connect with someone. So if you're having a great conversation, don't cut it short and go on to another thing -- consider skipping that other thing. By having deeper, more meaningful conversations you can really start to find synergies and ways to collaborate.
ISTE Tip: Make yourself available to meet new people. Hang out in the social butterfly lounge or bloggers' lounge (you can use the map section in ISTE's app to find social places to relax and connect). Also, make sure to attend the many social events ISTE has to offer.
7. What Happens at ISTE Doesn't Stay at ISTE
I'm not saying don't have fun, but just remember that it's a bit of a recipe for disaster when you mix alcohol and educators that are all dangerously good at social media . . . In all seriousness, we do sometimes need a reminder that fun is great, but when it gets in the way of the real reason you're there (to learn!), it can be a problem.
"Must-See" Sessions
As always is the case with ISTE, there are way too many great sessions to highlight, so here's my take of the "must-sees." Make sure to add your "must-sees" in the comments below, and see you at ISTE!
Full Disclosure: All of these sessions are by Edutopia bloggers, guest bloggers, facilitators, or organizations affiliated with Edutopia.
Saturday, June 28, 2014

8:30 - 11:30 AM: Exploring the 4C's for Administrators (WBH208), Kyle Pace, Steven Anderson -- GWCC A307
2:00 - 3:15 PM: ISTE Ignite Sessions, Round 1: Allison Finn, Amanda Sidorowicz, Courtney Pepe, Eva Harvell, Jennifer Kidd, Jennifer Magiera, Jennifer Roberts, Matthew Newton, Nicholas Provenzano, Rafranz Davis, Rurik Nackerud, Stacy Hawthorne, Tanya Avrith, Todd Nesloney -- GWCC Sidney Marcus Auditorium

Sunday, June 29, 2014

8:30 - 9:30 AM: Saved by Twitter: 10 Ways to Use Twitter to Connect (BS100), Elana Leoni, Holly Clark -- GWCC A302
11:00 AM - 12:00 PM: Engaging Today's Preservice Teachers for Tomorrow's Students, Bethany Smith, Dean Mantz, Jayme Linton, Lisa Dabbs -- GWCC B313
11:00 AM - 1:00 PM: Teaching Common Core Math with iPads, Monica Burns -- GWCC Murphy Ballroom Galleria, Table 4
12:45 - 1:45 PM: From the Campfire to the Holodeck: Place Matters in Education, David Thornburg, Sara Armstrong -- GWCC B312
12:45 - 1:45 PM: Genius Hour 20% Time: Best Practices Inspire Creativity, Not Chaos, Angela Maiers, Don Wettrick, Erin Klein, Karen Lirenman, Sylvia Martinez, Vicki Davis -- GWCC Sidney Marcus Auditorium
12:45 - 1:45 PM: Mastering the Common Core: Rigorous, Relevant, Technology-Enhanced PBL, David Ross, Dayna Laur -- GWCC B309
4:15 - 5:15 PM: Wonderful World of Wiki Teaching: Promoting Collaboration and Connection (BS119), Adam Frey, Theresa Allen, Vicki Davis -- GWCC A402/403
5:30 - 6:45 PM: PBL Birds: Meet Your Flock, Make Connections, Jane Krauss, Suzie Boss -- GWCC B309

Monday, June 30, 2014

2:15 - 3:15 PM: The Reflective Teacher's Tips and Tools for Guiding PBL, Suzie Boss -- GWCC Murphy Ballroom 3/4

Tuesday, July 1, 2014

8:30 - 9:30 AM: Teaching and Assessing the 4C's in the Digital Age, Andrew Miller -- GWCC B309
10:15 - 11:15 AM: Digital Citizenship, Now What? Frank Gallagher, Jason Ohler, Kelly Mendoza, Marialice B.F.X. Curran, Mike Ribble, Susan Bearden -- GWCC B207
1:15 - 2:15 PM: The Tomorrow Toolkit: Free Web Tools to Support Student Creation, Adam Bellow, Erin Klein, Kyle Pace, Michelle Baldwin - GWCC B314
Still want more tips on the conference? Check out these blogs I've found useful: